Home > Articles > Brown Motorcycle Boots: Perfect Biking Apparel
Brown Motorcycle Boots: Perfect Biking Apparel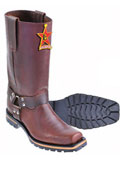 Biking is an adventurous sport and is highly dangerous at the same time. People who love to play with danger always opt for high speed games and sports and they often tend to fall for the thrilling experience associated with bike rides. The people who are interested in this field must also take some serious preventive measures in order to safeguard themselves from any injuries. You will see motorbike riders flaunting classy leather jackets that will not only help then to protect from any danger but at the same time is a mark of rough styling statement. All the youngsters love to see themselves in those positions and you will often see young biker boys or girls with such leather jackets. Another important and fascinating bike item that is a mark of excellent style statement is the brown motorcycle boots.
These boots are mainly made out of quality leather to make it rough and tough. The main purpose of is to safeguard the foot from the frictions that generally takes place while speeding up the bike. On the other hand, they are durable and are available in different sizes, shapes and designs. Mainly available in brown colors, these boots are a mark of pure artistic work in itself. There are different important colors to experiment with. It is always advisable to go for the ones that are from branded companies so that it comes with guarantee and intricate designs.
Before choosing any kind of motorcycle boots, you should keep these points in mind in order to check whether your boots comprises of these features or not. Some of those are mentioned below:
It is a known fact that when you are speeding up your bikes to a high level then you might come up with accidents too often. If not taken proper safety measures, then these disasters can turn out to be quite fatal at some point or the other. There are some instances when you will be left with a single leg or a damaged foot for the rest of your life. To avoid such fatal or disheartening results, try to wear these boots which are manufactured using tough rubber of thick leather to protect the toes, ankles and more.

It is better to opt for models that comprises of steel toes. It will safeguard the toes to a great extent. These acts like a cushion surface which will minimize the damage to a great extent.

Another important point that must be kept in mind is the comfort level. If it is not comfortable to wear then it will create discomfort and blisters can also form. The ones with attractive fittings, tough quality and long lasting promise can be your ideal choice.
There are different important online sites that are capable of providing the users with quality collections at cost effective ranges. Just check through their official sites to know more about the credibility of the company and the discount levels on your desirable boots.