Home > Articles > Purchasing Boys Tuxedos is Quite an Easy Affair
Purchasing Boys Tuxedos is Quite an Easy Affair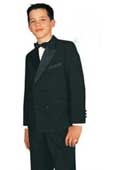 Weddings are romantic and wonderful events in your life. During the ceremony you will see many small boys wearing tuxedos and looking absolutely darling. This is a classic attire for any formal occasion and you will find that your boy is looking dashing when he is sporting them. Make sure that you find appropriate shoes with the boys tuxedos. Which style you are looking for it does not matter as long as you get the right size for your child.
You must take into consideration the theme of the wedding when you are making your purchase. Most weddings take place during the spring time. It creates a very fresh and romantic feel for the occasion. Spring weddings are laidback, fresh and hence you can go for a light colored tux that goes well with any occasion. Choose to go for a pastel color that matches well with matching ties, vests and accentuates the look of your little boy.
However, a black tux is always the conventional choice. Black is a color that is smart and elegant. These tuxes are fit for any occasion even for spring weddings. Even if you are going for a summer wedding you will find that this color is absolutely suitable for you. Summer is a warm and fun season. You can have a carefree theme and also incorporate some formality in the occasion. A perennial favorite is an outdoor summer wedding. You can go for black boys tuxedos even for outdoor summer weddings.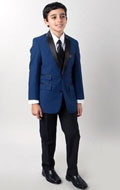 You can opt for a traditional style tux because that always looks good on everyone. There are other shades available too from which you can make your choice. An ivory colored tux is ideal for summer weddings. Chocolate colored tuxes are ideal if you are opting for spring weddings. Grey tuxes are also quite popular and give you a smart look. Once you find the right style you should choose the right accessories that go with it. A black tie is an accessory which goes well with tuxes for little boys. If you wish you can also opt for purple, white, red, blue and turquoise. These will surely brighten up the look for your little boy.
Cummerbund and bow ties are also a good choice. Go for an undershirt that is made from cotton. If it is made from cotton then allows the skin to breathe. With hot summer weather round the corner you will find that little boys are not comfortable in their tuxes. Hence, make sure that you buy comfortable boys tuxedos for your little one that is comfortable and fresh to wear. Go for black shoes which are most suitable with the tuxes. However, go for white shoes if your kid is wearing white colored tuxes. So, what are you waiting for? Switch on your Internet and find a reliable and authentic online store from where you can make your purchase.