Home > Articles > Stunning Boys Tuxedo Provides a Cute Look to Your Kids
Stunning Boys Tuxedo Provides a Cute Look to Your Kids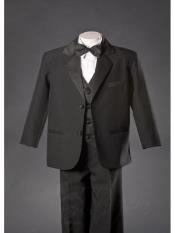 Tuxedo has become a common staple to everyman's wardrobe. Just like men, boys also need some stylish apparel to look stunning in special occasions. There are different types of apparels that men may opt for to appear stylish. Amongst all the types, tuxedo is considered to be the most sought after attire that majority of the boys opt for. It is different as you know they don't follow any guidelines while playing and jumping around with other kids. Black tie attires are considered to be the most versatile apparel and at the same time it is common. Always spend some time in choosing these outfits for your little boy. It should be stylish enough to help your little hero to make a style statement.
Boys Tuxedo can be worn at different occasions. There are many varieties available for the younger ones. You can buy either a stylish one or a set of black formal attire along vest and tails. They are of two types: double breasted and single breasted. Single breasted ones are mostly worn at formal occasions. These apparels not only make the kids look smart and trendy but at the same time they appear cute.
Size and quality need attention when you are purchasing clothes for your little ones. Try to get a tux that perfectly fits on your kid. It should not be too tight or loose so that your kid feels uncomfortable. If you are worried about the fitting, then it is best to opt for custom attires. The designer will design them depending on the measurement given hence no chance of loose or tight fitting. If you can purchase apparels from a reputed shop then you can ensure that they are of high quality as the manufacturer makes use of top quality raw components and advanced methods while manufacturing the clothes.
Visiting a nearby shop and looking at all the collections of boy's tuxes available with the store by visiting all the counters one by one is a daunting task. Therefore, it is best to purchase them from a reputed online store. You can check out all the latest collections available with the store by visiting their online site. It is essential that you check out the authenticity of the store before you opt for any shop. Beware of the fraudulent. There are many fake stores. Make sure that you don't fall prey to any of the fake stores. It is advisable to read the terms and conditions of the stores and other policies. Above all you must check that the store from where you are about to purchase your clothes offer safe payment system.