Home > Articles > Boys Ivory Suit Gives a Spiffy Look
Boys Ivory Suit Gives a Spiffy Look
Boys ivory suit make younger boys look smart, stylish and stunning. These apparels carry a style statement within it which is perfect for every special occasion. The color ivory given to the suits make these luxurious, unique and extraordinary and it can be worn the whole year. The attire can be worn by baby boys or boys of younger age on any special occasion like wedding or pageboy, baptism or christening or any other formal occasion.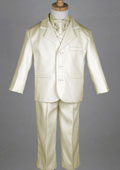 The ivory suits of boys consist of 4 separate garments of waistcoat, shirt, trousers and cravat. The waistcoat is made of ivory satin with self pattern lurex with diamond on front, lined fully, 3 center buttons which are clear, double pockets and on back adjustable buckle or strap for perfect fit. The shirt can be long sleeved of ivory color, buttoned cuffs, centre buttons on full length, down collar and it should completely compliment the waistcoat. The trousers can be pleated of ivory color with double pockets, button fly, elasticized on rear and belt hoops. The cravat can be of ivory satin with diamond of self pattern lurex and the velcro can be used at the back for fastening. The ivory suits made for younger boys can be of polyester because polyester has high quality and provides with a comfortable soft feel and should be cut with exactness and stitched in perfect way to attain the highest standard with attention given to every detail.
The ivory color for men's suit is considered the best. The wardrobes for men should have a perfect fit and a proper cut. A man is perfect and looks best when his clothes have a perfect fit. The ivory suits of men are a bit different from that of the young boys as these apparels are worn by men in many formal events like business meetings, interviews, for office during the summer etc. and not only in special occasions. The shirts use by men is not only of ivory color but of white, dark blue, light blue, purple or pink as the darker shades best compliment the attire. The shirts with different patterns like fine stripes, checks and bold stripes can be used for pairing to give a different look.
The suit of men should have the right tie and shirt then only the man looks perfect. Properly dressing up with a perfect fit enhances the look of the man as well as boosts his confidence. The right combination of color, pattern and fabric gives much more stunning look to the wearer. These apparels are made of wool like fabric called flannel which further adds a fantastic look to the wearer. These outfits are worn in various occasion and the professional man's wardrobe should have it. These can be worn during the summers as well as in winter. A lightweight boys ivory suit should be used so that it can be worn all the year round and it does not get wrinkled.
All types of ivory suits are available in various official websites of popular designers and brands. Persons interested in buying these collections can browse through these websites.