Home > Articles > All About Big Men's Suits
All About Big Men's Suits
The best suit colors for big men suits are black, white, olive, brown and all other shades. Big men's suit with well-cut, well-fitting can be accessorized into an office look without being frilly, authoritative without being dull. Big men's suits are suitable for any personality. In a big men suit, with different colors of shirts you can look different each time through the right match that can be worn quite often during the week.
Good combination of colors and patterns for Big Men's Suit:
The good color combination of jacket, shirt and tie not only makes you look good, but it shows your sense of creativity and organization. People assume that you will bring those same qualities to your job. You can enhance your personality by making excellent combination of the fabric, pattern, color and formal level of the items of your suit.
Comparable Fabrics for Men's Suit:
In the big men's suit the texture and the fabric finish should be similar to make the outfit balance. For formal look, wear a worsted wool suit with a broadcloth shirt and fine silk tie; all of these have a smooth texture giving the outfit a formal look with a 4 button men's big men suit. While for casual look at glen plaid tweed sport coat, wear an oxford shirt and knit wool tie, all have more texture giving the outfit a casual look. Shiny fabrics are more formal and matte-finish fabrics are more casual.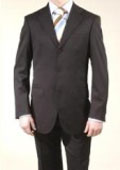 Most of the men love to wear suits but unluckily they do not find the exact sizes to suit them because their weight and height keeps on changing and ends up in different sizes all the time. Suits of bigger size are very difficult to be found on shops today but MensItaly has broken this myth by providing a surplus of big suits for tall people. Big suits come with innovative and creative designs in different styles that would be perfect match for the body. Matching accessories for these suits are also available for a reasonable rate at Mensitaly.