Home > Articles >Elegance and Trend Redefined with Lizard Boots
Elegance and Trend Redefined with Lizard Boots
Lizard Boots are an exquisite category of leather products which are found in a number of varieties, colors and textures to suit your requirements.
They look small but their skin measures enough to compile and form a boot! It?s amazing to see at times how the objects of nature can evolve and then be used to make variety of fashion items. Lizards are ample and found everywhere, especially in the dry and arid regions where one can find the varieties of lizards as well. Lizard Boots are made from such varieties and are very much in demand because of their unique look and texture. They are definitely one of your regular cowboy boots. These are exquisite items which are handmade by trained designers to be supplied to customers who have ordered specially for these kinds of boots. So, if you want to order a pair of boots for yourself then you better do it well in advance from your choice of manufacturer so that you get them just in time for your party!
A Few Facts about Lizard Leather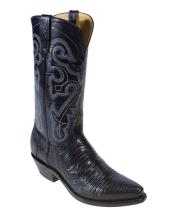 The leather measures about 25-35 cm at the part where they are the widest
They are available in a variety of colors according to the orders. Some of the colors include bone, blue, metallic gold, light brown, black and a lot more.
They are also available in a number of textures which can again be customized according to the requirement such as matte, glazed, printed as well as double tone.
Apart from Lizard Boots, you also get a variety of other leather based products from the skin of lizard such as handbags, wallets, watch straps and belts.
Though the skin of lizards are very thin but they don?t tear off easily which makes them really compatible for weaving into a number of designs.
So, in short lizard skin is a designer?s dream-come-true, being versatile, soft and tough at the same time!
Therefore, if you want a pair of Lizard Boots for taking your fashion quotient up, at least a few levels, then you need to choose the right kind of texture and color so that it doesn?t look like you have to forcibly fit in the boots to match your personal style. You need to plan the design and look in such a way that it looks as natural as your second skin ? yes that is precisely the idea! So, when you select a designer and give them the order to make your pair of cowboy boots made out of lizard skin then, you need to make a few points absolutely clear such as the usage of the right kind of material that will be sued, the texture that you need in your boot and the finish that you would prefer (from matte, glazed, metallic, hologram, printed).
Lizard Boots and other leather products are made by stitching them by hand as the skin is very soft and as ideal for such applications. Some varieties of the leather are also used for making small leather accessories such as mobile covers.