Home > Articles > European Suit: The Best Attire a Man Can Have
European Suit: The Best Attire a Man Can Have
European Suit has become highly popular all over the world now-a-days. They boost up the look of the wearer and are easy to obtain.
Europeans were the first to devise a suit as attire. Suits no doubt ushered a revolution in modern dressing styles. Since their inception in the medieval age suits have become increasingly popular among all sections of society. European Suit is the most prevalent form of suit found on Earth. Suits can be used both as formal as well as informal attire. Formal suits differ from informal suits in several ways.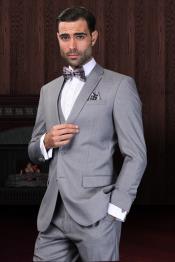 Formal suits are mainly used to wear at offices or other formal occasions such as office parties. These formal suits consist of a coat and trousers of coordinated color and are often worn with a tie. But informal suits are more casual and can be worn at parties or weekend trips that are informal in nature. They are made to fit the mood of the occasion that a person wants to wear them to. Being, informal in nature they can be worn with different colored trousers and are funkier in style. These informal suits are a favorite particularly among young men who like to stay trendy and smart.
In order to enhance the look of its user the European Suit is meant to fit perfectly on the body of a person. A loosely fitting suit or a hardly fitting suit can never bring a glint in the appearance of the person who wears it. Buying an ill fitting suit is a mere wastage of money. So, it is important for a person to know his own size before buying a suit. He can either measure himself if possible or take the help of a tailor in this regard. Once the size is known it will be easier for him to choose the suit with perfect fittings.
Though formal European Suit have very small color variation informal suits are available in a large number of colors and shades. People generally prefer dark colored suits but light colors are also gaining popularity fast. It is vital to choose a perfect combination of appropriate shirt and tie in case of formal suits but informal suits are not dictated by such norms and hence can be worn with a variety of dresses such as t-shirts, collarless shirts etc.
There are many reputed stores all over the world who sell European Suit. There are different brands, both well known and less known, who offer suits to the public of all tastes and budget. Some brands have their own outlets where they sell premium quality products. However, it is also possible for a person to make a suit according to his own size. These custom-made suits often fit more perfectly than readymade suits. But it is most important to recognize the proper brands as there are many unauthorized stores selling fake products under the names of big brands. So, it is important to judge the materials and the sellers carefully in order to avoid being duped.