Home > Articles >Dark grey blazer for both Formal and Semi Formal Occasions
Dark grey blazer for both Formal and Semi Formal Occasions
Owning a dark grey blazer will ensure that you are ready to bring in the right amount of elegance to any occasion, whether formal or otherwise.
There is nothing more attractive than a timeless dark grey blazer worn with well chosen shirt and trouser. Now, that the colder months of the year are knocking at the door you need to be certain of what to wear so that you are all set to rock this festive season with some of your best dressed looks and take away show without much effort!
The best part about wearing these blazers is that they are extremely versatile which means that you can pair them up with either a pair of jeans or a formal dress pants according to the requirement of the occasion. This implies that you don?t need to spend extra bucks on purchasing a blazer in any color. If you just have money to buy one blazer then make that a dark grey blazer dark grey blazer which would go equally well with your formal look as well as semi casual attire!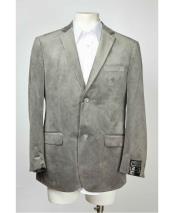 The thing to remember while wearing a blazer is to do it right, you can either pair it up with the right clothes, elevating your look, or you can make a fashion faux pas and make yourself a laughing stock among your friends or colleagues. Now, we need to avoid this dreadful situation at all costs! So, in order to do that you should be completely aware of the kinds of clothes that you can wear with a blazer of dark grey color.
Though the best match you can give a dark grey blazer is with a black shirt and a pair of black dress pants, you can also go beyond the road well taken and tread to lesser known ways by matching your blazer with a pair of distressed jeans and a white t-shirt. If you are up to it, then there?s no harm in experimenting with your look a bit and try something that has not been tried before. You can even contrasting shades like light blue shirts along with black dress pants to go with your blazer. This will give you a brighter appearance than the usual black and grey combination.
These blazers can be chosen to don on a casual office wear as well as a fun evening out with your friends. They can fit into any occasion with equal grace. These jackets usually come with two buttons in the front. The best fabric for a dark grey blazer would be fine wool woven ones, as that gives the blazer its unique appearance. They usually have a black inner lining and pockets as required. It is very basic and stylish at the same time and thus it gives you the freedom to wear it as an everyday blazer as well as for any special occasion. You can also take up the look with the right kind of accessories and give yourself a jazzy appearance if you are planning to wear such a blazer for a late evening party.