Home > Articles > Classy Crocodile Shoes For Creating a Fashion Statement
Classy Crocodile Shoes For Creating a Fashion Statement
The demand of crocodile shoes is on a continuous rise. We can buy them in different colors, styles & sizes. But we need to know how to maintain them, so that we can use the same for a longer period of time.
Crocodile shoes are just perfect for formal outfits. If you are wearing a suit, which can be a classy or a flashy one, these pair of shoes always compliment them.
These shoes are now new in the field of fashion. Both among men & women these are quite popular. The original leather shoes are very tough & durable. There are various types of crocodile printed leather shoes available today in the market. Apart from real leathers, these Crocodile shoes are also made of different materials so that anyone can afford them. As these are currently high on fashion, so to keep up with the trend, we have crocodile print dress shoes to suit the urban style.
These shoes are available in different sizes, shapes, styles, patterns & colors. The favorite colors would include- black, brown & burgundy. You can pick anyone up as per your choice. Some examples are:

Loafers
¾ Toe Shoes
Casual Shoes
Mountaineer Shoes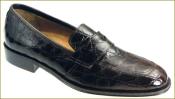 Today life has become easier in terms of accessibility. Previously we had to look for stores to buy any product. But now if you are desperately looking for a pair of Crocodile shoes, then you have lots of online shops to make your task less difficult. Here you can check the design, size, color & most importantly the price & then place an order. They will deliver the product at your door-step.
Now what if you already have the shoe, it is important to care for the thing. Here are some steps which might help you:

Clean dirt & dust with dry cloth
Buy the appropriate conditioner & apply on your shoe to clean it
Remove extra conditioner with soft dry piece of cloth
Use shoe polish to get the shiny effect
Try this at least once in a month
Keep them away from direct sunlight
Avoid moisture
Avoid direct heat
Do not use any polish or conditioner to maintain your Crocodile shoes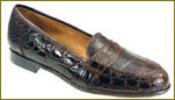 Buying any item is not sufficient if we don?t know how to manage them. Even if it is not very expensive, then also taking care is important. So, if we can use the small tips to handle the shoes with care, they will remain new even after a long time.
Though we are mainly concentrating on crocodile shoes but there are other fashion accessories also available in the market, like ? bags, men?s wallets & belts that comes in new trendy designs. These shoes have become very famous among young generation. This is because shoes are vital to complete the entire look of a person. If you are wearing nice dress & have a nice hairstyle but shoes are not complimenting that, the effort will be wasted. So, pay some more attention & check of the latest pair of crocodile shoes today.