Home > Articles > Get A Casual Suit If You Want To Dress Business Casual
Get A Casual Suit If You Want To Dress Business Casual
Business casual is a term used for describing a type of dress code which is more casual than traditional. There are many employers who adopt this style to let employees feel more comfortable on the job and to have the freedom of expression through their choice of clothing. When you desire to dress business casual then a casual suit would be the ideal thing for you.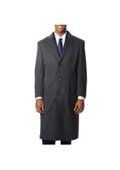 All casual clothing may not be suitable for the office. However, a few guidelines will help you in determining what is suitable for you. Clothing which works well for the dance clubs or the beach may not be suitable for a professional appearance at work. Make sure the suit that you are wearing is not wrinkled and is not frayed or dirty. All seams of your suit must be finished.
When wearing a casual suit you must exercise your judgment and determine whether it is suitable for a casual business day. Do not team up any jewelry or hat with your suit. Hats are not at all appropriate inside the office. However, head covers that are needed for religious purpose for honoring the cultural tradition can be allowed..
Generally if you are looking for a casual look then the linen casual suit is a great choice. It has a practical look and is ideally suited for casual wear. The material linen tends to crinkle and crease but even if it crumbles a little it looks good.
It is easy to get a casual look with linen for a casual and comfortable look. Even a plain white t-shirt will look great with a nice linen suit. The linen suits are a simple yet fashionable wear that is perfect for the summer months. It can link the gap between casual and formal and is easy to wear and looks wonderful on all men.However, you must avoid wearing sandals, sneakers, sweatshirts, or sport shirts with your suit. Try footwear such as leather shoes or loafers and avoid flip flops at all cost. Complete your business casual look with dress socks and classy accessories.
If you are planning to buy a casual suit then you can consider of making your purchase online. All you have to do is find a reliable online store from where you can make your purchase. There are many fake online stores that sell cheap products at a high price. Hence, you must be careful about them. Once you have found a store from where you can buy your suit you should check whether it has a reliable payment policy and a hassle free exchange scheme.
If you are shopping for the first time then you can take the help of your friend who has already shopped from an online store. If you don?t like shopping then purchasing your suits from an online store is the best way to save you all the trouble.