Home > Articles > Best Wool Coats For Men Perfect Winter Attire
Best Wool Coats For Men Perfect Winter Attire
With plenty of options available in the market, men find it hard to select the best wool coats for men. Most of the men love to show their personal taste through their outfits irrespective of the seasonal changes. However, when it comes to do some wardrobe makeover for arranging winter clothing line, you need to be practical and choosy.
If you want to collect winter outfit that will serve your purpose for long time making the spending of money worthwhile, you have to consider certain factors of purchase. First, you have to realize that coat is quite different from common jacket style and different types of coat styles are available in the market.
We offer our customers different type of coats in terms of material, color, cut, length, style, design, pattern and more. You will be surely able to find the suitable one from our vast collection of best wool coats for men.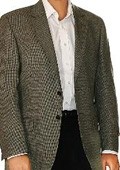 Varieties of Wool Coats for Men
As initial step of shopping, you have to understand the difference between jacket and coat. While jacket is much shorter in length with distinctive style that only allows length up to pelvic area, the length of coat extends to knees and even it can be much longer covering all of your body. Most of the times, men use jackets to exhibit their rough and tough nature but when it comes to winter protection, coats are always best to keep you warm and secure.
Apart from the protection from chilly harsh weather, you have to remember that your chosen piece should be able to serve various purpose from day to day work to special gatherings. Moreover, you should select the one that allows free movement and therefore pea coat and mens trench coats are two dynamic coat styles. In order to ensure the prolonged usage of coats for coming winters, you have to check the comfort and quality level of it before making purchase. Winter coats not only provide protection to the wearer from the cold climate, it enables the wearer to keep their entire outfit intact whenever they go out.