Home > Articles > Let Your Feet Do The Talking With Unique Snakeskin Cowboy Boots
Let Your Feet Do The Talking With Unique Snakeskin Cowboy Boots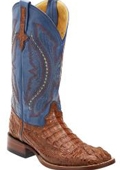 Cowboy boots in itself are fashionable and one of the best kinds of boots there is. But when they come in snakeskin, then there is nothing as beautiful as a pair of those. Snakeskin is a favorite choice among manufacturers for cowboy boots. They are comfortable, soft, and naturally are extremely popular, because the leather can mould according to the shape of your leg, making it a perfect fit. Snakeskin cowboy boots combine style, with comfort to such an extent, that after wearing these, many don't want to wear any other kind of boot.
Hardy and unique
Cowboy boots are the ultimate Western footwear for men. They are some of the manliest shoes that are out there. Snakeskin simply boosts the style quotient and the best part is that they make your boots unique. When you buy a pair of snakeskin cowboy boots, you can be rest assured of the fact no other person in the world will have those, because no two snake skins are alike. So when you wear snakeskin with your boots, they immediately start attracting attention.
Snakeskin boots are hardy and can be worn everywhere. There are no restrictions on its use, and you don't have to be afraid of the fact that if you wear them too often, then they will wear out. The leather takes the shape of your foot to use. They are the perfect fashion solution to those who are super conscious about their style statements and want to create a fashion impact wherever they go.
They come in many varieties and affordable prices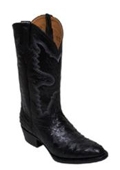 Snakeskin is something that has endless variety, especially because there are a number of different snakeskin that are used, and also because no two skins are the same. We offer a range of boots that come in different colors, the classic brown and black leather and along with those, unconventional colors like blue and purple are also available.
Snakeskin cowboy boots are stylish, unique and come in different price ranges so you can afford one and even gift it to someone. Whether it is the skin of a python, rattlesnake, cobra, water snake, or the rare iguana, sporting a pair of exotic skin boots will definitely boost your style quotient.