Home > Articles > Trench Coats For Men Look Dignified
Trench Coats For Men Look Dignified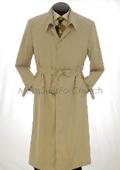 Haven't we all seen those handsome movie stars on T.V fighting crime in a trench coat! Don't they look absolutely to die for! The ladies swoon over these men. Well you can be one of them because we have a new collection for the dignified man, Trench Coats For Men. These coats are one of a kind. They are very fashionable and you will look absolutely remarkable in them. The mens leather coats have been designed keeping the modern fashion trends and the yesteryear classic fashion trends in mind. Once you wear one of our trench coats you will immediately notice the difference in your appearance. If you are skinny this coat will make you look perfect it will envelop your body like a second skin or if you are slightly on the plump side you will look perfect because this coat has the ability to hide those unwanted curves that you so want to get rid of.
Different Designs - Lots of new choices
We have lots of new choices when it comes to Trench Coats For Men. These Trench coats can be water proof or if you want the ones just to keep you warm and water proofing them is not necessary then we have those too. The trench coats come with belts but it is not necessary for you to wear it with a belt you just so easily wear it only with the buttons. You can also get other new stylish belts from our accessories section that will go superbly with your new trench coat. You can also get a suit that matches your new trench coat from our new designer suits collection. We also have waterproof boots which are necessary and other designer shoes items. You can select form a wide range of possibilities. The trench coats come in all different colors, the coats have a linen finish, the interior is made of wool will keep you warm and ofcourse the waterproofing on the exterior is perfect. In is an all in one coat. So please do not hesitate come and get your new trench coat today.