Home > Articles > Three Piece Suit - Have A Party Anywhere
Three Piece Suit - Have A Party Anywhere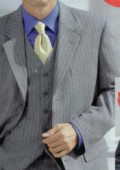 Well looking for an exquisite mens designer suit , our online store is the place to be. These Suits as you very well know are perfect and that means they are of the highest quality available. The texture is remarkable and like a second skin. You have several; different textures too, the oh so soft cotton which is easy to wash and dry and can be worn in any kind of weather, who can criticize cotton that's the best known texture, then you have the silk, that's just so soft and you will feel very comfortable.
High quality -
Comfort level will be to die for These suits besides its very eye catching color if we may say so are very very comfortable and soft. They can be worn anywhere and with anything. Pair one of these electrifying suits with a white shirt or even a dark blue shirt which will resonate the color of the suit and you will turn heads.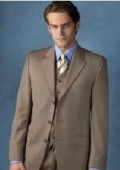 It's a Monday morning and you have work you also have and amazing party to go to where the towns most well known and high society people will be present and you have no time to go shopping, you don't even know what to wear. This perfect three piece suit will do just the job for you. It will make sure that you turn heads. The suits come in black, white, grey and the blues, they are all well known colors, especially for the well known brands of cars that we have. The colors are all reflective and eye catching. People think that these colors may run, but when it comes to our products we make sure that they don't fade with time. Our products are made with precision and with an eye on detail. We have other colors too.
The three piece suits in our collection are all of the highest quality and they are perfect for any and every occasion. So you have a meeting or a first date, these suits are just perfect for these occasions. And you can match them up with different accessories too. Get those perfect shoes too that will go perfectly well with your whole outfit. So come on give yourself a treat and have a blast. You will be the centre of attention at any gathering. So come along and get that amazing three piece suit.