Home > Articles > The Ideal Mens Suits Casual
The Ideal Mens Suits Casual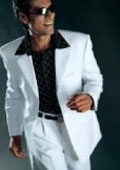 The traditional suit for men is a great choice of outfit. It is practical, easy to wear and without doubt looks good as well. But as you know that traditional suits can be formal and stuffy at times to wear. In such situations only a mens suits online casual can be the solution to such problems. And when it comes to casual suits for men, what else can be better than a linen suit? Linen is the apt material for casual suits as it both looks classy, sharp and yet relaxed at the same time. Linen has the nature to crease and crinkle, but even that way it exudes a certain charm. Also, this suit looks better when made in an unstructured or lightly structured style, than in a traditional heavy style. Mensitaly is one shopping website that has a wide range of all kinds of suits, even the casual linen suits. If you are considering buying a suit which is casual in nature, then www.mensitaly.com is surely the place to be.
If you are having a beach themed wedding, or if you are friend is having such a wedding, or it is just a simple beach themed party or a summer get together, then a linen suit is surely your best call for the day. When it comes to the colors of a linen mens suit casual, then you should at first definitely consider cool colors like white or light blue. These are so soothing to the eye in summers, that you are bound to get innumerable compliments. If you desire to go for darker colors, then there are shades of grey, buffs and tans at your disposal as well. For a casual look at night, you can try darker colors which are typical of a man's wardrobe like blue, dark greys and black. If you have an issue with the creasing property of linen, you can follow some care instructions like storing them in a special linen garment bag where the collars and other important parts do not get folded. This also takes care of other aspects like preventing mildew attack on the linen. Before washing linen, you should also take note of the kind of pre treatments that have already been given to it. This will help you decide which kind of washing technique is going to be beneficial for your linen suit.
With linen it is easy to dress down the material for a comfortable casual look. Even a plain white shirt is going to look great with a nice linen suit. With pale colored shirts like blues, whites, turquoise green, teal, pale yellow or even pink- you are sure to be the centre of attraction. You can even wear these cheap mens suits casual as separates, that is just remove the jacket when it gets too hot or by wearing the jacket with jeans and not formal pants. Most men either find casual wear difficult or formal wear difficult. But with these linen suits, one can never go wrong. Most importantly these suits are such that match the all group of ages. It smoothly bridges the gap between formal and casual wear. It portrays a no fuss easy to carry dressing sense of any man.