Home > Articles > Tan Suits For Weddings Make A Good Choice
Tan Suits For Weddings Make A Good Choice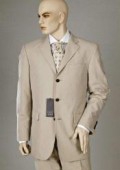 Men attending weddings often are in a dilemma about what to wear. Even though the suit is the best option they have, all they are confused about is the color. Black or white are two of the most common colors associated with wedding suits. So, men now prefer to something new. Tan suits for weddings are the best choice for all. Be it groom, guests or the bride's father, every man looks good in the color. Depending on the season you can select from wool or linen suit for the wedding. Both these are quite comfortable and ideal for all times of the day. We bring men's clothing in eye catching cuts and style. Shop from our website for new and stylish men's attire.
The bride's father look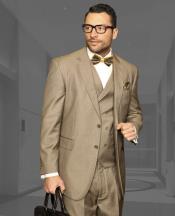 For the bride's father looking good and perfect is very important. You can wear the best wedding outfits differently. Pair the suit with a crisp white shirt and a double or triple stripe tie. Include start fish boutonniere with it and a must have a silk pocket square. For shoes the best choice of summer suits will be dark brown cap toe shoes. This look also works well with the groomsmen, but for the groom, stick to white or black suits.
The wedding guest
If you are attending the event as a guest, you can wear tan suits for men. What you need to do is, wear the suit with a nice neutral color shirt like light blue. For accessories, you can choose to wear a black bow tie and a brown hat. This will give you a completely new look. Include a blue silk pocket square with the suit. You can complete the look with brown brogues. But the most important thing here is you need to be willing to experiment. Our website brings an updated collection of men suits. Browse www.mensitaly.com.