Home > Articles > Suit For Wedding Party - How To Select The Perfect Suit
Suit For Wedding Party - How To Select The Perfect Suit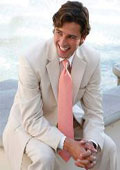 Parties, events, family gatherings, professional meetings are such events where you must dress up in your best suits. But to attend a wedding party, you need to wear the best of suits to look elegant and attractive. Your attire may not be gorgeous or glittering like the bridegroom's suit, but it should be something exclusive and special that will mark you out from all other invitees.
With an endless choice in designs, cuts and colors, it is quite a difficult job especially for men who are not so fashion-minded. But he is sure that he has to be in his best form. So when you need to select a suit for wedding party , take into consideration the following points:
Choice of colors - the color of the attire must be suitable for the weather and also your skin tone. If you are a dark tall man, the lighter shades of wedding suits with exquisite workmanship will be the perfect choice. For fair young men, you can rock the wedding party in the bright pastel shades. Look out for some exotic color that will express your character and make you look attractive.
Accessories - the choice of accessories like the dress shirt, belt, tie and shoes must be in tune to your suit. If you are wearing a dark color suit for wedding party, go for lighter shades for your shirt and matching tie to look smart and sophisticated as well.
Fit - the fit of the suit is of great importance for all occasions. Whether you are enjoying at a wedding party or attending an official conference, your suit portrays your character and dignity. Get a well-fitted wedding tux for men to rock the event. Do not neglect the comfort factor.
Costs - it is not always necessary to purchase the costliest suit for wedding party. Get ready well ahead of time so that you can take the opportunity of buying your suit at lesser price from the renowned outlets that offer discounts and deals. You can also rent a wedding suit if you do not wish to wear the same attire again at another party.