Home > Articles > Italian Linen Suits With Stylish Designs
Italian Linen Suits With Stylish Designs
Italian linen suits for men are made of import quality fine and purest linen fabric only. Made to custom fit every body shape, these are well measured in the online chain of retail stores and every fabric or color is chosen by the customer for perfection and according to one's own preferences. This is made possible with the advent of technology only. The Italian linen suits are made to be slim fit and merge with one's own attitude and character. The inner self is reflected well as these give a very formal and dignified charisma to the one wearing it. Styling these men's suits with very minimal accessories or hankie and tie in contrast shades is important. Light weighted suits are the greatest highlight in these unique designer pieces.
Pure linen fabric rich material slim fit design patterned work according to customers choice light weight zipper closure trousers hemmed pockets shoulder cuff stiffness edgy front collar on seem and back portion hemmed pockets are all the beautiful features in italian linen suit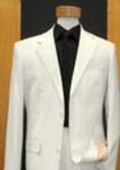 Stylish flat front linen
These stylish flat front linen suits are extremely comfortable as they give a silky touch and feel- good material fabrication in every suit designed. The custom made flat front linen suits are highly formal when worn with a pair of burgundy shoes in pure leather. The stylish front pockets are designed to make one look very dignified and charming. There is no other better choice than a stylish flat front linen suit in pure Italian linen fabric for a wedding party. They are unique with unhemmed detail to give custom fit options to the customer. They are also very well maintained and easy to wash.
Dry clean only is allowed. There is a notched tied up lapel front with zipper closure or bar closure as preferred by customer. The suits come with trousers or flat front pants with pockets and waist lifted fitting. There is perfection in the button detail according to one's fitting. Two or three flat front buttoned blazer suit and linen shirt is offered in style for these suits. The suits with highly rich looks are suited for formal wears also.
Beautiful double breasted suits
They give a sophisticated look to the one wearing it. They are also extremely comfortable for a busy day at your office conference or a simple brunch out with friend. They give warmth and comfort when stitched with perfect measurements. All these double breasted suits come with quality fabric details and unhemmed cuts. There are light weighted jackets or blazer suits that are in combo style, Every Italian linen fabric on catalogue is available to be chosen by you individually and decided according to one's taste and preferences.
The zipper closure at back and front cuts along waistline and inner linen pure fabric shirt with hemming and pockets are made to look extremely beautiful and charming. A handsome man will look more dignified and elegant when they are worn in style with very minimal embellishments. A simple leather belt or wallet in leather will enhance the look overall. Double breasted suits with black or brown blazer and trousers are very well suited for tall men and gives a traditional touch as compared to tuxedo suits.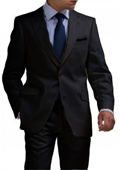 Charming tapered cut suits
Charming and rich tapered suits with perfection in figured shapes of one person is the highlight that makes many fall in love with these suits. They are highly beautiful with rich fabric quality. Made from finest quality linen suits and Italian linen fabric, they come with designer certification and guarantee. There are many pattern sin notch lapel, flat front pockets, flap pockets, stitches around collar, hemming details, etc that makes one tapered suit go well with busy days in your office or a casual evening ball room party. Styling is the ultimate choice and attitude where one's character is reflected. It is important that nothing goes wrong in these suits as they come in style and perfection already. But contrast shaded accessories or embellishments must be carefully chosen to get that perfect stylish and charming look to one person.
The unhemmed pattern will give that figure and shape of one's thin fit legs a perfect cut when worn and accessorized with pair of leather shoes or alligator shoes in black. Most of the linen fabric is dry clean material only as that will give longevity to style and shelf life. The unmatchable quality assurance that the linen suits made of Italian linen fabric is the reason for this quality.