Home > Articles > Snake Skin Cowboy Boots For The Exclusive Style
Snake Skin Cowboy Boots For The Exclusive Style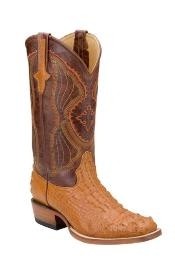 Cowboy boots are no longer referred to those specific riding boots that were worn by cowboys. The utility of these boots convinced designers to work on them and hence today we get a variety of cowboy boots in numerous designs, colors and especially wonderful variations in the leathers used to craft the boots. Use of exotic leather goods is a trendy fashion of today.
Designers have taken up this craze of the customers and have offered a wide range of cowboy boots made from exotic skin of alligator, crocodile, deer, ostrich and especially snake and many others. The snakeskin mens boots are a favorite of most celebrities and stylish men. These boots are available in a variety of cuts and amazing features for both men and women. The uniqueness of snakeskin is quite visible in the boots. The shine and exclusive designs of the rattlesnake and python make them so unique.
The skin on the belly of the snakes is mostly used to craft the snakeskin cowboy boots. The craftsmen take great care to retain the originality of the leather and so do not use harsh chemicals on them. Different rattlesnakes come from different parts of the world and it is up to the experts to make them into the most exotic cowboy boots .
Cowboy boots are very useful pairs of footwear that not only protect the feet of the wearer, but also stuffed with features that help you to climb mountains, cross the rivers and also wade through marshy lands. The base of the snakeskin cowboy boots are padded to offer comfort and the sides too are padded to protect from abrasion. Other advantages of wearing these boots are that they can protect you from slipping and they are shockproof as well.
But the main attraction of the snakeskin cowboy boots is its unique design. Each pair is different from the other and you will never get a second pair of the same design. There are various colors too like the brown, black, shades of these colors that go well with all colors of attires that you wear. They are extremely durable and stylish in looks for which they are so popular among ramp walkers and trendsetters.