Home > Articles >Silk Smoking Jacket brings in the classic touch
Silk Smoking Jacket brings in the classic touch
A smoking jacket is designed exclusively to absorb the smell of tobacco and to catch the falling ashes so that the inner attires are not spoilt in any ways. Men who smokes pipes or cigars usually wore them especially after dinner or when in a social gathering. But nowadays these are no longer considered as the utilitarian garment. Rather designers have worked upon them and presented exquisite silk smoking jacket that makes for a unique fashion statement.
The smoking jacket has a unique design and the best of fabrics like silk and satin are used to stitch the jacket. A silk smoking jacket that has retained its originality in style and cuts is highly priced and considered to an antique.
The construction of the smoking jacket is exclusive. It is of mid thigh-length and is also made from velvet apart from silk or a combination of silk and velvet. The sleeves are long and the cuffs are elegantly turned up with buttons fastening them to offer a perfect look and the shawl collars added extra style to the silk smoking jacket.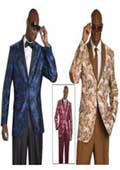 At the famous outlets you will find different colors of silk smoking jacket. The green smoking jacket is an exceptional designer jacket that is made of velvet with collars of exquisite embroidery of silken threads. The variety of ornamentations is just unbelievable.
There is another exclusive mens silk jacket that has transcended all style and age. It has a shawl collar, three pockets on the outside with flaps, turn-up cuffs, satin belt and twisted piping of black cord at the edges. The interior pockets have two divisions. In one half you can store only 2 cigars and the other is the usual chest pocket in regular size. The wrap style smoking jacket also offers a smart look to tall stylish men. Most of the jackets are fully lined with satin that gives great comfort.
If you want to present the traditional side of your character, get the elegant silk smoking jacket of the perfect fit and style and be the center of attraction at the social event.