Home > Articles > Pimp Fashion At Its Best
Pimp Fashion At Its Best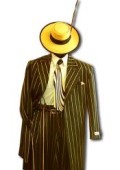 There has been a growing trend of people to dress in a manner that attracts the most possible attention from people. For occasions like halloween party, prom nights, pre wedding cocktail parties, bachelor and bachelorette parties, pimp fashion is much in vogue as this style of clothing allows one to be extravagant and showy. There are several ways in which one can go about pimp fashion. There are innumerable styles and patterns of outfit which can be categorized under the category of pimp clothing for both men and women.
While for normal dressing, one goes for colors and styles that are sober and decent, in pimp fashion its about going over the top with your dressing. So instead of sober colors, one can see more of vibrant and eye catchy colors. Even the fabric are soft and lush to give the most exotic feel to the wearer. So fabrics like cotton and wool are a complete no. Instead the ones popularly used are satin, silk, velvet, fur, cashmere and poly rayon. All these are extremely rich and costly materials which easily makes the statement of being expensive garments.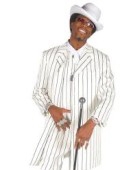 In proper italian men clothing, one can go for monochromatic ones in hues of purple, yellow, red, pink, burgundy, green, peach, orange and blue to name a few. Utmost there can be a combination of two colors. A huge fur coat would blend nicely with this kind of suit in a nice cold day or evening. A coat in a striking color with leopard fur style is just apt for celebrities and hip hop artists who are always on the lookout for reinventing their attire to look different. A shimmering silk cape would also look extremely majestic. It would signify authority and that's what pimp fashion is all about. A very common feature incorporated in these pimp suits is the animal print for the amazing style statement it is able to make.
The animal print can be of various types which mainly includes cheetah, leopard, zebra and tiger. Instead of going for complete animal print suiting, its best to go for fine detailing of this print in the suit at various places. So in a suit, one can have animal print in the cuffs, lapels, collar, waist pockets and waistbands. The pants too can this print along the side panels. These suits generally have wider lapels and flared bell bottoms to make these suits different from the conventional formal ones. The suits can be embellished with sequins, rhinestones and other things that can add glamour to the outfit. Another feature that can be tried in these suits is the pinstripe pattern. This design is exceptionally suited to this kind of high end fashion.
A mustard colored suit with black undershirt along with a hat is a perfect description of a pimp suit at its simplest! Then there is a green suit with yellow undershirt that would look equally smart. One can add zing to these suits by taking a striking scarf.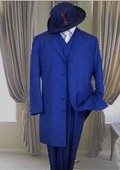 Here, the cut and style plays a vital role in making the outfit highly fashionable. Again for suits its the colors and details that make it so chic. Short flared skirts look grand. These skirts can be in metallic colors like silver, golden and bronze as these are more striking. The skirt can be in animal print with a solid colored top. The top can be studded with sequins and can have sensuous necklines like halter neck or strapless with sweetheart neckline that would make it exceedingly suave. The top can be of fitted corset bodice style as well. In pants, zebra print is more popular as there is more room for bolder prints. The tops can be backless or can have plunging necklines to ensure this style scores high on the style index. Disco jumpsuits in metallic colors like silver and golden or in flashy prints in striking colors is another noteworthy style that defines pimp fashion.
The halter neckline with a bit of the cleavage showing indeed makes this costume a show-stealer. To add icing on the cake are detailing is the snug fit that accentuates the figure flattering curves to make one look like a bombshell. The prints can be of animal type or any other geometrical patterns also in the jumpsuit.
There can be frills incorporated in the lower leg part of these jumpsuits to make them look even more attractive. Pimp fashion is always incomplete without the accessories. So lot of attention has to go in the department of footwear. For men the formal shoes have to be something that immediately draws attention. Since pimp fashion rides high on money, its best to wear a pair of alligator shoes as these are the most expensive and is a symbol of power and authority. The shoes should be shined and polished to perfection as unpolished ones spoil the entire look of the outfit. In leather shoes there are premium grade of various animal skin that includes ostrich, camel and crocodile leather as well. The premium grade leather shoes have rich texture that adds to the sophistication of the outfit. Also, these are available in a wide array of colors.