Home > Articles > Pimp Clothing At Its Best
Pimp Clothing At Its Best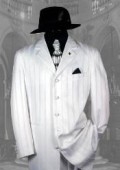 Pimp clothing implies to kind of clothing that is flashy and dressy. It is basically clothing extravaganza. For such type of clothing bright and vibrant colors are preferred which stand tall among the crowd. This includes hues of purple, yellow, red, pink, burgundy, green, peach, orange and blue to name a few. The fabric preferred is lush exotic ones like silk, satin, fur, cashmere and rayon. These fabrics are extremely soft with a glossy finish giving the desired look. Any normal clothing can be pimped to give a more flashy and extravagant feel. For example, the denim pants can be studded with sequins, stones and other embellishments to make it more striking. The tops can be adorned with spikes along the shoulder to make it more eye catchy.
A mustard suit with black undershirt is a perfect example of a suit suit. Then there is the purple suit with lavender undershirt. Patterns incorporated in the shirt that is evident from outside as a small portion since much gets covered by the blazer is another rocking style. In such cases, its best not to have higher notched lapels so that a bit of the shirt is also seen. Stripes, checks and other patterns given in the tie is another way of making the ensemble more attractive.
Animal print is another style of pimp clothing. Either you can have the entire suit in animal print or just a few elements like tie, shirt, stole, shoes or hat in this particular print. Its the leopard and zebra print which is the most popular in this style. Some of the pimp clothing packages in this pattern include white snow leopard, white and zebra, purple and leopard and orange cracked designs. All these are made of superior quality fabric making it extremely comfortable to wear. Also, good quality fabric ensures longevity as these do not get spoiled or worn out that easily. If care and maintenance is taken properly, these classic suits for men are quite durable. As such these are not very high on maintenance making it another reason to invest in this type of suits made in top quality base material.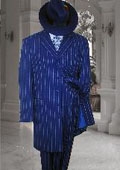 Here are some examples of pimp suits that are worth mentioning. A baby powder blue pimp suit that is made of 100% fine quality super soft clothing, has a bigger cut with flowing fur that surrounds the coat. The out of the box color and the presence of fur makes this suit quite an attention grabber. Generally pimp suits are sought by hip hop artists, celebrities for parties, producers and other people related to the big industry of films and movies. Artists are generally regarded as people who are creative and hence a little different. Pimp clothing reinstates that different look in their personality. Purple pimp coat with leopard fur style is a pattern that is just appropriate for the hip hop artists. It makes the wearer look cool and suave. Pimp suits with buttery satin finish indeed looks royal. Green pinstripe suit is another kind of suit that is very majestic. A suit consisting of orange jacket with satin lapels and cuffs with matching flare trousers makes for a classy pimp suit. Trousers of these pimp suits have front zip, pockets and elastic back.
Pimp suits are high on fashion. But as such these suits have been in vogue since long. Its up to the wearer to decide on the fabric, style, color and cut in them.