Home > Articles > Dont Miss The Opportunity Of Suit Sales To Increase Your Collection
Dont Miss The Opportunity Of Suit Sales To Increase Your Collection
If there is opportunity of clearance sales for suits or suit sales , then that should not be missed at any cost because suits are something that men can't do without. When there are suits for sale, you can be assured of the fact that you can get quality suits for almost half the original price, and discounts are the best part of shopping for any apparel.
You can't do without suits
Suits are one of the most important things in a man's wardrobe. Whether you are going to the office, or a business meeting or an evening party or a day out or a wedding, wearing a suit is imperative. There is a reason that designers have come up with a multitude of suits that cater to your needs according to where you plant to wear them. Suits are something that never get old, and if you wear them right, then you can be the star of any party, by wearing just the right suit with the right accessories.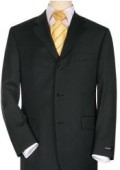 Men exude manly elegance and are automatically taken more seriously when they are seen sporting a suit. Thus, it is essential for any man, who takes their fashion seriously, and even for those who don't really care, to own a small collection of suits so that dressing up can be fun and effortless, and you can wow your onlookers with every appearance that you make.
Get any suit that you want
Whether it is a single breasted suit or a double breasted suit, whether you are looking for slim fit suits with dress pants or you want casual suits that you need to stock up on, we offer a range of suits that come at astoundingly competitive prices that are almost unbelievable. You can pick any suit that you want, and you will be able to own it at such low prices, that it is almost uncomfortable. Our suit clearance offer suits in a number of variations that you will have no difficulty choosing from and your wardrobe can shine without you having to spend loads of money.