Home > Articles > New Exotic Fashion Shoes for Men
New Exotic Fashion Shoes for Men
A smart new look for men. The Alligator Shoes for Men are the ultimate luxury. They have exquisite finish and a very soft feel and a tough looking exterior. This combination makes a man complete. Our new online collection of these fabulous new exotic shoes have inaugurated a new era in fashion. Don't we all like to be different and exotic is definitely different. The new alligator shoes for men are the new look for fashionable men. So come get this rare look and become the exclusive one of a kind.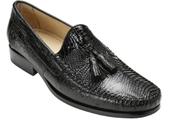 Tough and the soft look
These alligator shoes for men will give you a tough look but once you wear them you will never feel like opening them. They will give your feet the ultimate comfort but yet look elegant. Comfort and style is the combination that made these shoe, this quality is absolutely matchless. These shoes are usually very expensive but our online store gives you a different range which will be easy on your pocket.
We always want comfortable shoes. Because we have to walk long distances and we do not want to get shoe bites in any kind of weather. Well these shoes are very comfortable once you put them on you will know that they were meant to be and you have made the right choice. These shoes come in all kinds of ranges and you will not go over your budget. We suggest that you get atleast two pairs of these beautiful specimens. They come in all different colors. So you will definitely get the color of your choice. Match the shoes with your different wardrobe items and get a stylish closet and be the marvel of all.