Home > Articles > Mens White Linen Shirts
Mens White Linen Shirts
When it comes to comfort clothing that does not compromise on style and class, then there is not better option than mens white linen beach shirts . Linen shirts are one of those classic clothing that is an essential part of any man's wardrobe. You can carry off any look, formal, semi-formal, sporty or casual, by wearing a crisp white linen shirt.
Perfect summer fabric
A linen shirt is the most appropriate fabric for summer. Linen is such a material that has the ability to make you look and feel cool during the hot summer months, and if it is a white linen shirt, then that is the best choice for summer. These are loose shirts made of linen that are usually worn without tucking them into your pants. You can tuck them into a pair of trousers, button it up till the collar and wear a cool slim belt, and you can look effortlessly stylish for any event or outing. You can wear a white linen shirt with denims, shorts, slacks, and dress pants, and look equally good no matter what you pair it up with. There is nothing as classic and fashionable as a man wearing a crisp white linen shirt, a pair of dark blue denims and a pair of smart sunglasses, in summer.
Wear your linen shirt with anything
Linen shirts allow you variety in your daily wardrobe, and you can wear a white linen shirt with practically anything. If you want to liven up your daily office attire, then you can pair up your linen shirt with a colorful sport jacket or a casual jacket and wear a pair of jeans underneath.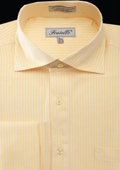 They can be worn with suits, jackets, khaki pants, shorts, to the beach, to the office, and you can practically do whatever you want with a white linen shirt, without worrying about looking repetitive. There is no shortage of fashion accessories that can make your white linen shirt shine. Whether it is a watch, or a belt, or your pants or some other accessory to your shirt, a crisp white linen shirt can never become old, and it is absolutely essential that you own one.
We offer a range of mens linen shirts in any size that you wish to buy, and look fashionable and presentable and stylish throughout the year.