Home > Articles > Men's Suits With Ticket Pocket
Men's Suits With Ticket Pocket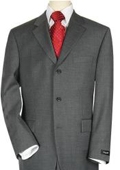 A suit is one of those elegant attires that has been accepted universally as the most appropriate item that must be a part of a man's wardrobe. It is really not known for sure from when men began to wear these decent suits. There is hardly any occasion when a man does not wear his suit. With the improvement of technology and new methods, garment designers offered unique styles in suits that a man could wear on various occasions and events to look more fashionable and sophisticated. There were variable prices also to cater to the different pockets.
Men who are style conscious wear various designer suits crafted meticulously by professionals of the well-known brands to establish a personal style. The sharkskin suits for men have mainly 2 pockets one on each side near the hips. But there are some coats or suit jackets that have a third pocket. This is known as the ticket pocket. It is located just above the right pocket of the suits and the size is roughly half as wide.
Men who traveled by trains mostly used these Men's Suits with Ticket Pocket. It was a special feature added by designers for convenience' sake. This pocket also served the purpose of storing tickets at sports events or theatres that they visited. Being small in size they were just appropriate to keep the tickets in them so that they could be presented whenever required quite easily. This style was particularly seen in bespoke suits or the special made-to-order men's suits.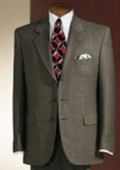 However these Men's Suits with Ticket Pocket is rarely used in modern times. Professional tailors designed these suits according to the time and the requirements of the users. If you wish to get this vintage look, you can buy the Men's Suits with Ticket Pocket from www.mensitaly.com. The quality and the style of the suits offer a dignified and sophisticated look.
Originally this third pocket was seen in the country suits. But today ideas are changing at rapid speed and the old features are coming back to the fashion arena with slight innovative changes to give a trendy touch to the Men's Suits with Ticket Pocket.
MensItaly is a renowned outlet that stores all kinds of suits from vintage suits and tuxedos to the trendiest mens designer suits of today and they are all of the highest quality. So if you need a changed look to bring some color to your life, log on to www.mensitaly.com to choose from the extensive variety in the Men's Suits with Ticket Pocket at the accurate price.