Home > Articles >Men Royal Blue Suit Ultimate Fashion Statement
Men Royal Blue Suit Ultimate Fashion Statement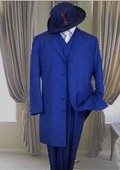 When it comes to select colored formal outfits, several men feel clueless to find the appropriate one. First, you might have doubt in your mind that purchasing colored suit might not worth as trends comes and goes and soon it will be out of fashion. However, you need to learn about some effective trick that will help you to shop wisely along with fulfilling your long desired wishes of owning colored suits. While some colors become the pick or trend of the season, several other colors have universal and timeless appeal. Apart from black and white, men royal blue suit is one of the versatile and popular formal attire of fashion industry.
You do not need to worry about suitability of suits once you decide to shop with us. Our expert and experienced staffs will guide you throughout the shopping to make your shopping experience worthwhile.
Mixing and Matching of Men Royal Blue Suit
Color coordination is very important especially when you are trying out colored suits. Although some people go for the safest option of mixing light and dark colors, some others want to be experimental with their look. Now, in both ways, you need to learn about suitable and best possible color combinations. First, you have to clear your doubt that royal blue is a unique shade of blue family that needs to be matched with royal colors like black and white or baby pink. The key to mixing and matching is to check whether both dominant colors are visible from distance or not. Both the colors need to be classy enough to complete each other. Royal blue color is one of the popular and invigorating colors available in the formal section of fashion industry. People irrespective of age and gender love to wear royal blue color outfit. Moreover, you can wear royal blue suits not only the time of attending formal occasions but also during informal or semi formal events too.
We come up with wide range of collection of colored suits with different material, style, cut, design, pattern and size at inexpensive cost.