Home > Articles > Italian Wedding Suits For Men
Italian Wedding Suits For Men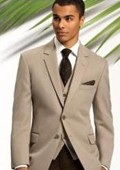 Italian wedding suits for men with perfect fitting and vested vents and jacket details are best suited when styled with minimal embellishments. The suits are completely rayon fabric and 100% quality assured from Italian clothing houses. These suits are done in handmade details and made to look extremely elegant. For one who is seeking a perfect suit for wedding, these italian wedding suits are a real good choice. Considering the quality and searching for the best is no more a difficult task as these suits are rich in quality and fitting. Online stores have enabled this beauty with ease and men seek to buy the suits online now. They give a lot of perfection in styled treatments and embellishments too. Each one is uniquely done to enable one person look different from the crowd .
Varieties in Italian wedding suits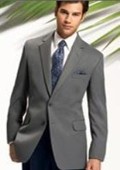 There are many varieties in Italian wedding suits and they have grown large and numerous in counts after the pavement of online shopping. You get to wear the best on your wedding date and perform the rituals with comfort and lighthearted face. The comfort is arrived easily through quality lining, Italian wool or rayon fabric and also by way of fitted garments. The wool suits and tuxedos wear commonly chosen by all. Besides these there are few more wedding suits like the following, Signature notch lapel tuxedo suits, Double breasted wedding suits, 150's Italian wool suits for wedding, 140's Italian wool suits in fine rayon, Fitted well draped wedding suits,Double vested wedding suits,Slim fit wedding suits in rayon, Signature peak lapel wedding suits, Premium quality tuxedos, Pleated trousers and blazer suits for wedding.
And many more slim fitted details and embellished coats are available. All these in average prices only are made available. Both the quality and fitting are not to worry class. Very classy patterns and styles are followed. These unique mens suits are worth buying and made to last long with style when dry clean is done professionally. The suits are extremely comfortable in slack varieties also as it is important to hold that handsomeness as a groom on your wedding.
The bride will fall for your beauty and charm on your wedding when you have a vested coat and details done on the blazer with a crisp white shirt and bow. Minimal embellishments are always good to get that charming look.