Home > Articles > Italian Groom Suits For Men
Italian Groom Suits For Men
Italian groom suits are made with perfection in style and gives longevity in durable and life of the fabric. There is no compromise done in patterns either. Every single piece is uniquely done with designer touch. Keeping minimal shades with contrast embellishments or accessories, these groom suits are perfect for party or formal wear occasions. Italian groom suits are of many types including the following, Black wedding retro suit, 2 button cocoa brown notch wedding suit, 2 button taper slim-fit suit, slim-fit black prom suit, 2 or 3 button business suit, black tuxedo suit, 2 button peak lapel double breasted suit, 150's wool combo suit, 140's wool suit, wool fabric 3 button men's suits.
Most of these suits in Italian groom suits category are made with sophistication details and highly concentrated on the top-notch quality elements and styling than any other suit. They give warmth and comfort. Makes one person feels really happy at heart and when you get styled up with these groom suits, you can surely make heads turn your way. They are that soft, comfortable and rich in quality and come sin really good rates to fit in every budget friendly pockets.
Men's italian 2 or 3 button groom suits
These suits with high quality come in style with trimmed hemming and custom fitting options to keep one comfortable. Very rich in quality and shades like dark brown or black are highly demanded by many. They give styling comfort to the one who wears it. They are made with very tiny details and minutest cuts are also a huge difference when worn with minimal accessories. 2 or 3 button mens suits online like tuxedo, vest and double breasted suits are common among youngsters also. This is one reason why trendy people love to own one in their wardrobe too.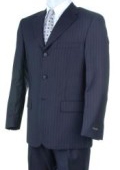 Men's 150's combo wool suits
The 150's combo wool suits come in purest shades of woolen fabric in Italian wool cut in very good rich fabric details. All of which are highly concentrated by fancy men and those that will help one look extremely dignified and comfortable. The Italian suits that are hand-tailored with beautiful cuts and immense quality comfort certification by designers are priced quite averagely. People love these suits for their shades also. When in combo offers, tie trousers and wool suits are made to suit most of them. Double vented pockets, on-seem unhemmed lining and polyester sleeve coating makes the suit get a richer look certainly.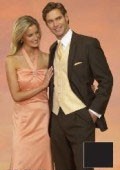 Cocoa brown Notch wedding suits
Cocoa brown shaded notch wedding suits with cuffs and shoulder stiffness are perfectly styled according to every theme. Marino high-quality woolen suits in dark shades are apt for formal wear occasions as these are mesmerizing in designs and quality. Quite cheaply priced woolen suits are fabric rich suits only. Cocoa brown notch wedding suits with plain flat trousers and good quality lining in polyester is made to look very comfortable. Fitting perfection is the main stream in most of these suits that attracts many and made to recommend too.
High quality 140's men black wool suits
Black wool suits with tightened hemming or custom fit perfection in edges around arm pits are neat and dignified in these 140's black wool suits. Flap pockets and inside two pockets in trousers and in-seem length fitted well is what makes these suits very unique from other. Casual wear or simple day out with friends on a dinner eve will be apt to showcase your beauty in the 140's men black wool suits. Certainly these suits are quite heavy as they are made with woolen fabric in good quality. Certification with regard to the same is available.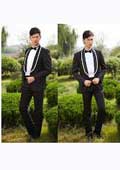 Black retro styled wedding suits
Retro theme wedding suits with similarly patterned suits are in trend with latest fitting and customization options. Slim-fit Prom suits for wedding, Double breasted tuxedo suits, and tuxedo trousers are also very neatly done Italian groom suits for men. But when the retro styled and themed weddings are considered these suits in retro wedding suits category are highly recommended to many. They are quality rich and in brightest shades too. They come with high-quality lapel front pockets and perfection in good lining made of polyester too.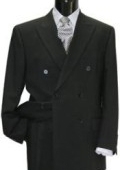 2 Button double breasted lapel suits
There are many double breasted suits that make one person get that enhanced and stylish front elevated and dignified look. One feels extremely comfortable and made to look good and happy. This is even more perfect when there are 2 button double breasted lapel suits. Black and brown lapel suits with elevated styling, zipper back, flap pockets and good lining in sleeve and waist-lifts are the plus points in the double breasted lapel suits. They are light-weighted too. Most of the lapel suits in black are formal usage suits and made to look elegant with stitching perfection and great styling treatments.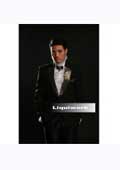 Slim fit prom suit
Prom suits and extremely light-weighted suits in linen clothing and fabric details are made to look extremely comfortable and elegant too. 2 button taper suits with sleek and slim fitting lining in polyester and flap pockets gives the look more elevated and charismatic character. Designers keep them simple without much of embellishments. Flat trousers with two inside pockets and cuts trimmed to edgy perfection is another good feature about the 2 or 3 button slim-fit prom suits. Hemming is done to perfection as well.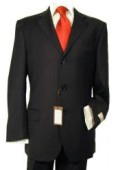 2 or 3 Button business suit
2 or 3 button business suits are very well designed in quality lining and made to look perfectly well with alligator shoes for a casual day or conference at your office quarters. Be it a comfort style or designer touch or richly fabric details, these suits are very well suited to every body shape. The suits come with utmost shoulder and cuff details with polyester lining. Slim-fit and edgy perfection in the business suits makes these suits highly recommended to the men in tall figures to keep the lists of prom suits category increasing in your wardrobe after feeling the comfort.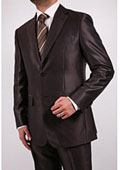 2 Button taper slim fit suit
The 2 button taper slim fit suit with good styling treatments are the finest and super soft quality material. The finest and good quality taper suits and slim-fit cuts are the best suites suits for formal wears or weddings. There is more comfort when worn with leather shoes or alligator shoes. The immense quality details that one taper suit gives are the highlights that recommends many designers to their customers for weddings. The non-vented on-seem pockets with cuts and edgy details are also very well suited to men wearing these 2 button taper lapel slim-fit suits in stylish comfort.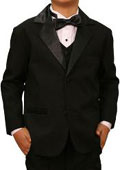 Black tuxedo suits
Tuxedos are highly rich in quality elements and made to look extremely comfortable for all that is done with minimal efforts. A man can look perfect in a vested tuxedo suit in purest quality of Italian linen and lining in polyester mixture to well suit the needs of the charm and charisma needed out of these suits. They are very rich in comfort and good to style up with high heeled shoes or boots. To get that enhanced look with tuxedo suits, one should style it up with very minimal accessories and a contrast shaded tie.