Home > Articles > Extremely Fashionable Ostrich Wallet
Extremely Fashionable Ostrich Wallet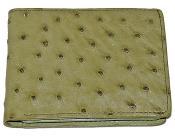 Indulge yourself in the soft, supple luxury of Ostrich wallets. Made from genuine leather, hand picked right from the tannery by our craftsmen, who take utmost care in selecting only the best leather, mens alligator wallets are extremely fashionable. These wallets will last a lifetime as they improve with age. The interior of the wallets are also lined with 100% genuine leather. No compromise in quality is made even for the simplest element of the wallets.
Ostrich wallets are stitched with heavyweight nylon threads. Wallets for both men and women are available. The wallets for men come in various sizes and 2 kinds of fold that is bi-fold and tri-fold. The range showcases wallets with inside pocket for coins or important cards. Available in masculine yet funky as well as sophisticated colours, your Ostrich wallet will stand out from the rest. Choose from Charcoal black, Brown, Chocolate, Grey, Tan, Emerald Green and Royal blue colours. They have several compartments and slots to suit your need. The Ostrich wallets are large enough to hold securely all your credit cards, identity cards and coins. The ladies wallets come in various shapes like large with rounded edges, square wallets, smaller ones with zipper and many more.
The zipper is of high quality and of brass finish to match the sophisticated look of the wallets. A range of colours to choose from, these wallets are the most desirable ones. Pick a colour from Chartreuse, Pink, Tangerine, Turchese blue, African violet, Cognac, Velvety Red, Clematis blue and Pale pink to suit your personality. All ladies wallets come with matching straps. Incase you want a different shade strap you can choose separately and you get a custom made wallet for yourself. They are the right size to carry your money and your phone securely yet small enough to fit in perfectly in your handbag. They are built to undergo extreme tension, pressure and temperatures. These wallets are dust, water and oil resistant. So, no need to worry if you go on adventurous trips. No need to carry multiple wallets for your money, coins, cards and phone. Everything fits in just one crocodile wallet . All the wallets are handmade with love and care.
They not only have beautiful colour but also beautiful patterns. You get options of wallets in beautiful scalloped skin pattern and quill pattern. Not to worry, both the patterns are available in men's and women's ranges. Gift it to yourself or gift it to the person you love these are exquisite pieces of gifts to cherish for a lifetime. These luxurious Ostrich wallets not only make you look posh but they also make you feel like a superstar. Don't worry about the price as they come in affordable prices and you actually end up saving a great deal as these wallets will last forever. Easy to order and easy payment options make our range of Ostrich wallets even more desirable. To make you feel great about your wallet we make all our leather wallets from farmed and sustainable resources. So, what are you waiting for get one for yourself today.