Home > Articles > Expensive Sneakers For Men Which Are Never Out Of Fashion & Style
Expensive Sneakers For Men Which Are Never Out Of Fashion & Style
Many men prefer to flaunt their style and anyone who can spend more than a normal price are ought to show off their priced possession. Sneakers were part of every wardrobe for more casual days, but now there are thousands of brands, and designs one can choose from if one can afford a few hundreds or even a few thousands of dollars in making the right choice, Men who love to look great all the time and surely every man would love the attention he gets for being nicely dressed, so put your best foot forward in elegance and style with a pair of fashionable and stylish sneakers, these sneakers that we are talking about are expensive and are actually for men who prefer to buy stuff for a reason.
So remember just as women love to spend on amazing foot wear, men also love their fashion and are kicking in most of the fashion brands into their wardrobe for luxury which looks actually impressive.
What makes them sought after?
Well most of the designer shoes are expensive as they are exclusively designed and made in singular numbers, and they transform your style and look as an instant response, also as these shoes set you apart from the routine, they are amazingly crafted leaving no holes bared.
Brands like Adidas, Nike, Michael Jordan, Prada, Lacoste, Reebok, Timberland and so on, aim at creating sneakers and naming them after famous celebrities which is why many prefer to get their hands on these shoes as they are more like a star & status symbol, there are thousands of colors, patterns and designs to choose from & they go perfectly well with a pair a jeans and t-shirts, well if your shoes are worth thousands of dollars then what pants you wear is completely irrelevant.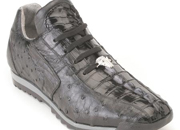 What makes them so expensive?
The most simple reason why these brands sneakers are expensive and exclusive because they are processed and manufactured under supreme guidance and detailing, designers and brands have been trying to scramble and re-create footwear that makes everyone go completely hoping and jumping after them, many of these designers sneakers are featured with studs, thorny kicks, expensive stones embellished on them or cutting-edge technology designed models are made from scratch as a reward, these shoes sell like hot cakes and its close to impossible to find a similar pair and even before you know they will be sold out!
Be it a Michael Jordan or Nike any expensive branded sneakers are often associated with style and you get to flaunt it as a status symbol and makes the person wearing them trendy and fashionable. Once you display your priced possession you are automatically showcasing your obsession for style and on the surface, people around you add more value to you as a person for the best of the best sneakers which you possess, so there is no harm in presenting yourself globally if you have the money to spend so happy shopping and good luck with your choice!