Home > Articles > Exclusive Mens Shoes Gator
Exclusive Mens Shoes Gator
Your formal clothing would be incomplete without a pair of exclusive mens shoes gator. These shoes made of classy alligator skin is highly popular among one and all. With the extra flare these shoes have to offer, you are sure to stand out among the crowd.
These shoes are available in a wide variety of styles and colors. These come from Italy's finest shoe manufacturers as this requires high craftsmanship to deliver the exceptional quality as desired. The main purpose of these shoes is that it should look grand without compromising on the comfort quotient. The inner lining of these shoes are given in leather making it soft to wear. The cushioned foot bed is another added comfort factor. The sole is hand stitched in leather to provide excellent traction . The insole is cushioned for added shock absorption.
All these ensure that you feel good to walk in these shoes. There is no hassle of blisters and no problem of slipping or rubbing. Gator shoes are popular for one very obvious reason. These are flashy and can easily attract attention from all nuke and corner to your attire. Also, these compliment the contemporary suits exceedingly well. These shoes come in variety of colors that include black, brown, tan, camel, taupe, wine, gray, chocolate, navy and burgundy to name a few as these are the noteworthy colors when it comes to formal suits as well. You can have monochromatic shoes or a combination of two shades of the same color incorporated in a single shoe. These premier Italian made shoes are not "painted on". Rather these shoes are colored using special dye technology. The aniline process used to dye ensures that the color permeates through the skin. This way the color does not fade easily. The color is maintained throughout the lifetime and becomes better and beautiful with age. This feature along with the quality of stitching makes these shoes so durable and worth making an investment for. The lace up detailing and the seams given are so neat and intricate that it adds value to the exotic animal skin .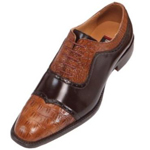 These shoes mainly have square to front that look very chic and lace up detail to give you the perfect fit. As such the rich texture of alligator skin is enough to get the wanted look. To make it even more chic you can have dual color in these shoes with one inside and the other outside. This makes these shoes look even more striking. There are alligator shoes with eyes which are even more flashy. The seam lines in these hand stitched shoes are neat and also contribute to form a pattern in these shoes. Since these shoes are made from pure alligator skin, its definitely not cheap. The original ones are expensive but since these last many years of wear and tear, it is worth investing in. These slick shoes would accent any designer suit perfectly well .
Leather with design men shoes gator
Mens gator shoes consist of leather with subtle design that makes it look grand and befitting for wearing with designer suits. The lace up detail and the neat stitch lines along with the color of your choice dyed in the skin makes these shoes for an amazing footwear .
Belly with deer leather shoes
Looking for a stylish pair of shoes that would complement your designer suit in the best manner possible? Then you must check out these belly with deer leather shoes. Made of exotic animal skin, these shoes are comfortable to wear, durable and great to look also.
Leather lace up shoes
Formal shoes made in genuine leather are a class apart in terms of both looks and functionality. The rich texture and glossy appearance of these shoes make them eye appealing. The lace up detailing looks great and helps to get the desired fit. These shoes are comfortable as well as long lasting .