Home > Articles > White Suits Look Class Apart, Cheap White Suits To Match All Occasions
White Suits Look Class Apart, Cheap White Suits To Match All Occasions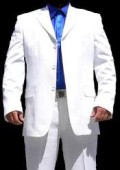 Ever heard the saying "Clothes make the Man" and you need more than care and seasonal wear more than just Suits, it the more important to dress to impress and pay a lot of attention to get the right look and the right outfit to match the occasion, White suits look elegant and mark Royalty, specially linen suits are the ones that make a mark. White suits are a must in every man's wardrobe, you can pick the right one for the special occasion, you can go for different styles and patterns to choose from the thousands of designer suits available in stores. Mensitaly as always comes up with excellent quality products that brings about the best in every man. For formal wear purpose, suits are widely used.
Do your research and make sure you check for the latest trends and styles, whether it's the patterns or the prints or stripes that are truly in fashion, you got a variety of options to choose from like the 3 Button Suits, Ivory Suits, Pinstripe Suits, Armani online, Linen Suits.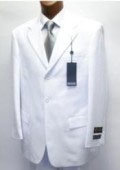 Go for White Pinstripe Suit, or White designer suit with Charcoal stripes, suits like these look sleek and define your style alongside balancing Contemporary and Fashionable, pay attention to pairing them with a modern fit Flat front slacks to define your body type and sleek length, 3 Buttons Suits these suits go well with every occasion, make sure you pick the Notch Lapel instead of Peak Lapel though the detailing is sharp in Peak lapel, the 3 buttoned suit is ideal for Notch Lapel and looks classy too, choose wisely since white is the color to stick to on special occasions, get a decent tie and a perfect crisp shirt for the wedding as white men's suit goes well with any dark or bright colors and even pastel shades go so well with a perfect 3 button white suit. Its these small details that makes a mere ordinary suit an extraordinary one.
Linen Suits, the Linen white suit is appropriate for warm weathers and on any special occasions, without going overboard you can match your Linen suit with light colored or pastel colored shirts, get a nice striped or boxes shaped tie to add to the different look.
Ivory suits, now many are confused with this particular look as Ivory has a mix of silk look along with cream or beige colors, so the Jacket and the Pant should be of the similar side to get the clean finish. Pair these suits with a classic light green or light blue shirt and you are sure to look radiant and simple, go for contrasting collars for your Jacket and cuffs if you like to add more style and detail.
Whatever style or pattern you choose to wear on any special day, wearing a cheap white suits doesn't necessarily mean being cheap, you will be able to bargain or look for lots of sales going around in stores and decide on your look as well as get the perfect fit that goes well with your body type and comfort should be the prime reason for wearing it too!