Home > Articles > Things To Know Before You Get The Coolest Sneakers For Men
Things To Know Before You Get The Coolest Sneakers For Men
Sneaker for men are without a doubt the most comfortable footwear who love being outdoors exercising or even for any day where you want to loosen up and relax on a casual day, you are sure to feel comfortable and better about yourself with a nice pair of stylish sneakers, these shoes are everyman's must have's in their wardrobe, a cool pair of sneakers gives you the perfect kick to start off your day on a lighter note.
They are the ideal footwear for any given casual weekend or summer get aways, you can find thousands of varieties and brands which come in a wide price range to choose from, and not to forget the widest range of colors and patterns one can find & not points for guessing guys but when you are looking for a great sneaker then you must round off your choice by the number of casual clothing that you will be making an appearance in and don't forget that a person is mostly judged by the shoes he wears make sure to invest in the right sneakers which comes in a reasonable price range.
Now you have to narrow down your search by simply figuring out the purpose of wearing a sneaker, whether you are looking for running shoes, walking shoes or shoes that support you while cross training in a gym is absolutely your choice. Let's check for few suitable points that might help you figure out the wide range of choices.
Sneakers shoes are often involved in your daily or weekly life where they will be part of casual activates, and white and blue sneakers are the most preferred sneakers for most of the men or even boys. But many stylish and colorful shoes within a reasonable price range, these are suitable for any classic day at work with a pair of jeans and leather jacket on the go, or even pair them with your chinos, mens crocs aren't exclusive and sport the look with bright colors like orange, green, blue, red and so on they look very stylish and these colors are in this season, do check out the suede classic sneakers which give you a rich look and look subtle, These sneakers come in basic & simple designs which have a sophisticated look associated with a great deal of comfort and class to rock your day.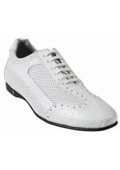 Different style sneakers come in a variety of styles like the basic Slip-ons, Leather Sneakers, Tennis Sneakers, Cape toe Laced Sneakers, High or Low Tops and even Mid-top sneakers, many of these varieties have elastic tongue straps which are easy to get in and out off, must try the duck canvas outlined sneakers which have a cushioned insole and added outer rubber to enforce cool classic style. A must have sneaker for all simple outdoor chores would be the low-top sneakers, For all those who love to look trendy then you must check for the calf and pony hair star collection. Any look that you plan to carry go colorful and pick the ones which extend support and comfort to your tired feet and match them with style and fashion is the most important factor is wearing them in style and confidence, so good luck with putting your best foot forward!