Home > Articles > Make Any Look Work With Casual Suits For Men
Make Any Look Work With Casual Suits For Men
When it comes to looking casual and smart at the same time, what better option is out there other than casual suits for men weddings that are slowly becoming one of the trend setters when it comes to men's wardrobes and smart dressing?
Wear casual suits with anything
Casual suits can be worn with anything and you can wear them wherever you want. It's the sort of thing you can sport with equal ease in a golf field, and at a wedding. If you want to go for a very casual look, then you can wear the suit above a t-shirt and a pair of jeans. Causal suits are best suited for that sort of get up. But if you want to look laid back, but at the same time, smart and dapper, then also causal suits are well suited to meet the purpose. Causal suits add a splash of color and brightness to your wardrobe, and are suited to all places, all climates, all year round. Therefore, undoubtedly it is a smart investment. Men are now reverting to such trendy alternatives for formal and casual events alike.
Color and variation
Causal suits are smart, and trendy, and can serve you in a host of situations. They come in a variety of colors, and not just the classic black or gray and blue. They are available in every possible shade in every possible color.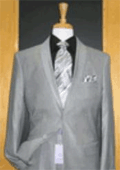 They are casual suits in the true sense of the term, because they need not be as carefully handled as expensive business suits or tuxedos. You can toss them in the backseat without worrying about creases and dirt. That is one of the greatest advantages, because there is nothing as satisfying as a low-maintenance piece of clothing that sets the fashion bar high for your peers. To add that extra bit of elegance or excitement to your attire, you can add a casual suit and your job is done.
We offer a range of men casual linen suits that are stylish, funky, classy and elegant. You might be wondering how all these can be packed into the same piece of clothing, but that is the magic of casual suits.