Home > Articles > Casual Shirts For Men Look Stylish
Casual Shirts For Men Look Stylish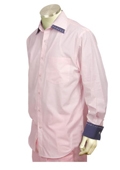 We need casual shirts for our everyday lives. We cannot have enough of these shirts. Our online store is always there to help you, that is why we have a very new collection of Casual Shirts For Men . These shirts are one of a kind. They are in perfect symphony with the current fashion trends. We have a whole lot of new selections like the half sleeved shirts and also the sleeveless shirts. We also have the long sleeves shirts with a two tone color combination.
Party Perfect
Our casual shirts for men collection, is just perfect for a party. You have a date out one of these striped bright colored shirts on and are bold. We have the perfect beige shirt which has a slight pinkish tinge which would just be the thing. There are also the checks so why not order those as well for better impact and impress your lady. There are browns and the burgundy. Specially the one colored ones are to die for. The high neck shirts and the array of buttons make you look debonair and oh so confident. We have all the textures that you are looking for. We have the bright colors like the red and the yellow perfect for a sunny day or the black and the grey geometrical shirts. These shirts will surely make you the center of attention wherever you go.
We also have other sections on our website. We have the men's designer shoes section which has formal shoes and the sneakers as well. You could match your casual shirts with nice khaki pants and a pair if smart sneakers. Among our casual shirts collection we have different designs and textures like the comfortable corduroy shirts. These are special and perfect shirts a very cool collection and you will definitely make a style statement of your own. Be the one to start a trend and the be the first one who gets the girl all you have to do is log into our website and a whole new world for you to explore will open up for you.