Home > Articles > Beach Wedding Suits - Outstanding Theme Outfit
Beach Wedding Suits - Outstanding Theme Outfit
Several couples opt for the venue of their dream wedding at the easy breezy surrounding of beach. Most of the times, summer is the perfect time to experience beach wedding style. However, both bride and groom feel clueless when it comes down to beach wedding outfit. While you are gearing up for beach wedding, looking good is not enough and pulling together minute details of your appearance is more important. Even if men always love to swear on comfortable beachwear with shorts and sandals whenever they visit seaside, they have to change their avatar when it comes down to their wedding day. When brides are getting ready with gorgeous yet soothing wedding dress or gown, grooms should also find out best beach wedding suits that enable them to be comfortable and confident throughout the ceremony.
Interesting Factors of Beach Wedding Suits
Fabric - One of the most important aspects of beach wedding outfit is the fabric. If you are going for summer wedding, you should choose linen as your wedding attire fabric. Linen fabric is lightweight, comfortable and breathable that will keep the grooms cool and dry for long time.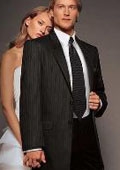 Color - While several people choose white color for their wedding attire, you might select something different to make your beach wedding colorful and vibrant. Some cool shades like mint green. Sky blue, light pink are ideal for beach wedding. However, you should always choose the color of your wedding suit keeping the color combination of bridal dress in mind.
Style - When couples are deciding beach wedding theme, they are actually not trying hard to look extremely formal rather their approach is semi-formal style with loads of fun element. While men might not like to wear tuxedo in their beach wedding, they might pick single breasted linen suit or cotton based wedding suits. Although tropical or floral prints are quite popular when it comes down to beach style wedding, couples should always dress their age.
Once you shop with us, you will never be able to forget your wedding shopping experience as your satisfaction is rest assured by our experienced and expert staffs.