Home > Articles > Alligator Skin Briefcase
Alligator Skin Briefcase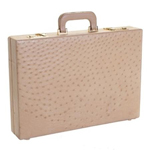 Alligator skin products are one of the choicest accessories that leather connoisseurs love to use. The attraction of the exotic skin products is irresistible especially for those who love to use the designer items so that there is not a second one of its kind. It is a show of aristocracy to use specially designed and constructed accessories that help fashion conscious men as well as women to establish a distinct identity of his/her own.
An Alligator Briefcase is indeed a prized possession. The exclusive skin quality and designs are worth the price. The branded products that you get at www.mensitaly.com are all handmade by professionals who are trained to work on these types of exotic leather. They are skilful men and know exactly how much compression or buffing is required to bring the fabulous glow in these briefcases.
The crocodile wallet is made from genuine alligator skin that are first preserved and then worked upon. The expert hands work on them to get the perfect finish and the colors they use simply compliment the rich texture of real leather. If you are searching for that authentic Alligator Briefcase to accent your sophisticated lifestyle, visit MensItaly and discover the amazing range of products made from this exotic skin of the Alligator.
There are six designer Alligator briefcases and ostrich wallets available at the outlets and different online stores like www.mensitaly.com that offer genuine products at the correct price. You can opt for the traditional styles, designer briefcase or even the larger ones that are carried on wheels so that you can a lot of important materials easily and in style. There are other wallet styles also in the range of the Alligator Briefcase. The bi-fold and the tri-fold ones are exclusively made to offer the user that sophisticated look that all men desire. Especially when you attend business meetings or corporate discussions these accessories portray your unique tastes and dignified lifestyle.
The features of the Alligator Briefcase too are just made for the modern men who require space to carry all their documents and important papers wherever they go.
* The inside of the briefcase is expandable and is protected by snap tabs.
* The zipper pocket with flaps and two penholders, and two other smaller pockets allow the user to keep all his stationery well organized.
* The smooth leather lining is an added quality.
* There is a double-combination locking system for safety reasons.
* The entire briefcase is made of simply alligator skin and no other kinds of leather.
So if you wish to own one of the best of accessories to show off your specialty and style signatures, log on to www.mensitaly.com to buy the best Alligator Briefcase at the correct price.