Home > Articles > How Can You Care For Your Zoot Suits?
How Can You Care For Your Zoot Suits?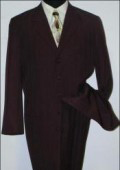 Zoot suits are popular suits with wide-legged, high-waisted, tight-cuffed pegged trousers and long coat with wide padded shoulders and wide lapels. They were very much preferred by Hispanics and African, Italian and Filipino Americans during 1930s and 1940s. They are available in different models, sizes and colors and they are expensive. So it is important to maintain your zoot suit and keep it properly in your wardrobe.

Whether you have red suit, Tuxedo, Overcoat or other models of Zoot suit, do take proper care of your suit after wearing it for any occasion. Otherwise you may damage it. You need to take care of it if you want it to last long. In order to give the right kind of care, you can use fine quality clothes brush, coat hangers, steam iron and clothes steamer. Some of the tips to take care of your zoot suit are as follows:

Take proper care of it before hanging it in your wardrobe - Before hanging it in the wardrobe, removes any items present in the suit pocket and it is better to use a good quality clothes brush to remove dirt from your suit. Keep your zoot suit in fresh air for at least 24 hours before hanging it in your wardrobe.
Take proper care of it while hanging it in your wardrobe - Keep it along with the overcoat in a garment bag while hanging them in your wardrobe. Hang them in only good coat hangers. Make sure that you have enough space in your wardrobe so that the suits can be hung into and taken from your wardrobe easily without wrinkling it.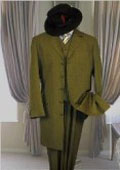 Take care of them while ironing it - Iron it with good brand steam iron for excellent removal of wrinkles from your suit. When you iron your suit, be careful with the heat of the iron box because too much heat will cause wool to be shiny or may damage the suit. It is always better to place a piece of clean cotton cloth over your suit while ironing it. If you do not want to iron your zoot suit, you can use clothes steamer to remove the wrinkles from your suit. Take care of it while cleaning it - Always dry clean your zoot suit and give it to a professional dry cleaner who will also properly iron your suit without damaging it. But do not dry clean your suit too often to prevent damaging of your suit. You can dry clean it once in 3 to 4 months. In between dry cleaning periods, have it pressed or steamed and spot cleaned. Ensure to pre-treat the spots and stains in the suit before dry cleaning it. Take care not to hot press or heat treat or rub the stains on the suit. Doing so may leave permanent stains or spots on your suit. If it is wet, use a towel to remove the moisture. Then leave it in the fresh air and naturally dry it at room temperature.
Bookmark