Home > Articles > Zoot Suit for sale
Zoot Suit for sale
A Zoot suit always comes with high-waisted, wide-legged, tight-cuffed pegged trousers and a long coat with wide lapels and wide padded shoulders. It was popular among Hispanics, Italian Americans, African Americans, and Filipino Americans during the late 1930s and 1940s. Many people still consider it a "rebellious garment of the era".
They are available in a variety of models and colors. The sizes available are 36-52, regular and long. They are available in different styles fashionable colors like gray, red, brown, yellow, purple, and white and pink. Some of the popular zoot suits are listed below.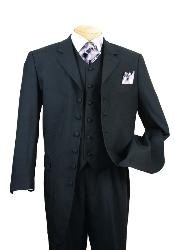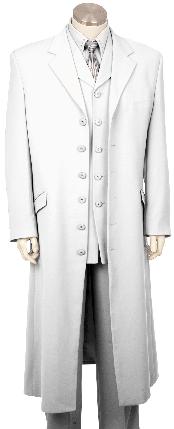 Zoot Tux

Sand Zoot

Black w/White Pinstripe

Joker Purple

Blue Sharkskin

Platinum Sharkskin

Zebra zoot

Black w/Red Pinstripe

Tiger suit

Black with Gold Gangster Pinstripe

Sapphire Blue

Red Multi Suit
The Suavecito attire has the old school zoot suit look. This model has a 3 buttons, single breast, single vent, flared lapel jacket accompanied model by a reat pleat, extra baggy trouser rising above the navel with dropped belt loops and is pegged at the hemline. Tux is Solid black and made in the same style as the model, but with the satin lapel, pocket treatments, buttons. They are good for special occasions such as a dance or a birthday party and every man must have this in this wardrobe.