Home > Articles > A Style for Success with White Linen Suit
A Style for Success with White Linen Suit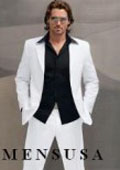 A white suit isn't a usual suit that you can just throw on and walk away. White suits have certain rules and regulations that need to be followed, let you want to commit a fashion faux pas. The rules of where to wear them, when to wear them and how to style them up are essential to be understood before planning to don on the suit. It dresses your formality down and can make you look very trendy and uber cool. There is a certain grace associated with a white suit as it is a very unique item in the fashion world and it requires certain charm to pull it off. It carries an air of success, taste, and sophistication and is designed to make you look better, to break boundaries between social classes. It is, in its best forms, a complete outfit, that will never fail you. Wearing it to work place daily is often an indication of managerial or professional status. No matter the style, needs to fit your body, closely. This means all pieces should be cut and tailored fitting to your form. A man in a white suit is bound to attract attention and is bound to be remembered for a long time just for his choice of wearing one.
The linen fabric should however be soft and of great quality. The fit of the suit is like the fit of all other suits except that the white suit should be slimmer fitting and should contain of up to 2 buttons at the maximum as they are casual suits. They should be tailored to wrap around your body cozily and the pants should be tapered. As they lie more on the casual side, single breasted suits with narrow lapels are great choices.
Fashion Tips For Sporting A White Suit
They are outdoorsy and hence don't go well with indoor occasions like formal evening parties, dinner nights or indoor celebrations. They are meant to be worn for a casual picnic, cruise parties and other adventurous occasions.

They are not meant to be worn for work or on formal occasions as they spell casual. They should never be worn to business meets or client presentation or any other work related occasion.

Make sure that you wear the white suit during the spring or summer season and not during the autumn- winter season as white is a light color and is appropriate for a warm weather only. Wearing them during the colder days can make you feel cold and as they provide a flashy contrast to the dull winter, they can look very odd and out of place.

Dress shirts in soft pastels, checks or stripes can look very cool. Never go for too much of prints or patterns on the shirt. Colors that go with white include light blue, lilac, grey, white itself and other subtle hues.

The shoes that can be paired with the white suit include black or burgundy oxfords, loafers, monk straps, brogues and other formal shoes. Never wear any other color than black, brown or burgundy as they add a formal touch to the look and hence are necessary.

You can go open collar with these suits as they look more casual. If you insist on ties, then wear ties that complement the color of the shirt and the entire ensemble. The ties or bowties should never be of too flashy bright colors as they steal the focus from the suit.

Pocket squares can also be worn and similar to ties they should never stand out but subtly blend in with the ensemble.