Home > Articles > Tips for an Affordable Tuxedo Formal Wear Suit
Tips for an Affordable Tuxedo Formal Wear Suit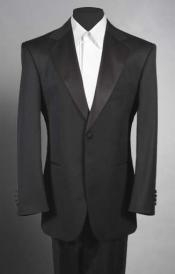 Tuxedo formal wear suits are available both for outright purchase and for hiring. If you are planning to attend a formal wedding you are most likely to be in need of a formal wear suit that is going to make you look extremely presentable and make other guests notice you.
That apart, going out for a colorful evening meal with your girlfriend, you can look your best in a tuxedo that is tailored to fit your personal size, presents - she just cannot refuse.
A tuxedo shirt has to be stiff, with the smaller corners of the front of the shirt ironed so that it sits nicely over the jacket. The cummerbund can be any color of your choosing. You can keep a wide stock of cummerbunds in your closet if you wear this attire quite often, and you want your cummerbunds to match whatever your date or your spouse is wearing.
If you are planning to get married or if you are in the wedding party or if you are parents of the bride and groom, then it is clear you need a tuxedo as well. It is worn to the sweet sixteen parties you are going to attend, and other special holiday occasions that you will be planning for family. Take a look at the range of tuxedo in many sizes, shapes, colors and you can either rent or purchase.
Choosing the attire of the right size and right fit and right color - is a daunting task and requires you to keep in mind your body type and personal choice. Do not get distracted or lured by celebrity styles but decide as to what style will go well with your personality and body type. There are several tempting varieties of designer clothing available in the market and below you can find few tips in selecting the right ones:
If you are slim and tall, then you enjoy a greater freedom in choosing the type you want... You can wear almost anything of your choice but if you over slim or thin, then double breast jacket with big pads on shoulders is indeed a must as otherwise you will look grotesque.
If you are of short stature but thin, then double breast possibly is not the right choice. The right type for you will be a single breast button down jacket accompanied by pleated pants. Avoid jacket with more than three buttons as they can cheapen your looks.
If you have broad shoulders then it is best to avoid double breast style jacket as it will further highlight the broadness of your shoulders. Tall and fleshy men should wear vest instead of cummerbund as cummerbund will accentuate your waist.
Short and stout men should prefer wearing single breast jacket. To minimize the attention your large waistline is receiving, it is good to opt for padded shoulder jacket. You will look dashing in one or two button tuxedo jacket.
If you are very fashion-conscious and wish to wear a trendy tuxedo in line with the contemporary times, the best option for you, is to rent a tuxedo. That will enable you to maintain your updated style without paying a hefty price for it.
Bookmark