Home > Articles > Armani Suits
Armani Suits
The unmatchable and unbeatable elegance that is persistent in all kinds of suits makes the man look the most dapper and graceful. Suits can convey a remarkable amount of charm and charisma that probably no other outfits can convey with such ease. When it comes to dressing up in a suit, your obvious choices should be the ones which look great on you, which are affordable and which have the best fit. Considering these aspects, Armani suits are a great choice as they seem to perfectly fall into place in all the aspects mentioned above. Durability is also an important characteristic of a suit as making it last for a longer period of time is highly essential. There is always an excitement when it comes to purchasing suits as you are making one of the best purchases of your life and the suit you buy can even last for decades. Armani suits offer the obvious durability more than the other brands as they are made from high quality fabrics. The suits you buy should match your style, personality, size and the occasion that you are wearing them to. Watch out for the style of suit and the occasion that you plan to wear it to, for becoming a head turner.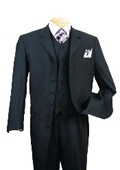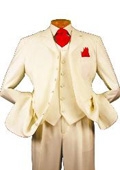 Fit
Armani suits offer the best fit that you can bargain for. They come across as vintage styled pieces of ensembles which make you look uniquely dapper and classic. The trouser pants have pleated fronts which convey class and elegance. Make sure that they are of your waist size and they sit around your hips comfortably well. The length of the pants should be about your mid- boot length which offers the best look and comfort. Ensure that the vest fits around your torso snugly and the undershirt is of a perfect fit. The length of the suit jacket should be perfect and the fit should be snug as well. Make sure that the sleeves of the jacket are shorter than those of the shirt to reveal the shirt cuffs underneath the jacket sleeves. The aesthesis present in a timeless suit is incomparable and incomprehensible. Wear that suit of the perfect fit and nothing can spoil your grace after that.
Fabric
The suits of Armani offer the best fabric in terms of quality, durability, looks and feel. Always choose to go for high quality suit fabrics like wool and woolen blends. Cheaper fabrics like rayon, polyester and other synthetics fail to offer the comfort and breathability offered by the wool and the woolen blends. The fabric should not be a mix of other artificial chemicals as they can majorly alter the characteristics of the original fabric. Linen and cotton fabrics can be preferred during the warmer months as they tend to keep you cool and increase the air circulation. However, wool always remains the classic choice for a suit as it has the potential to look and feel better than the rest.