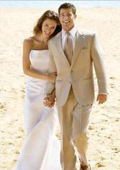 Mens suits have traditionally enjoyed tremendous popularity over the decades and deemed the right attire for different occasions - like social events, business meetings, corporate functions and wedding parties. There may be various types of men's suits and fashion may keep changing but hitherto no male attire has been invented to replace the time-tested menís suits.
Broadly speaking, menís suits for weddings and parties may be classified into four different types of designs - Solid, Pinstripe, Windowpane, and Check patterns.
Solid suit:
The solid suit is a plain basic type of suit that is mostly of a single color. People who wear solid suits generally opt for colors such as black, charcoal gray, navy blue and rarely white. Some of the less favored colors are brown, khaki, tan, and purple. The solid suits are rather prosaic and they are the preferred choice of people who want to keep a low profile and appear sedate and not flamboyant at parties and social meets.
Pinstripe suit:
The pinstripe suit is of a popular pattern that consists of vertical lines running all over the suit jacket and pants. These stripes are of medium width and thickness or they are pencil striped or chalk striped. The pencil striped suits are thin and narrow spaced while the chalk striped suits have thick stripes. The Pinstripe suit lends the wearer a stern appearance and best suited for serious minded persons.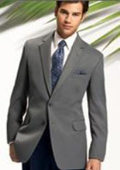 Windowpane suit :
The windowpane suit is lot more stylish and flamboyant and this suit pattern has running lines both vertically and horizontally to make square "windowpane" patterns. Private parties and less formal social events are ideal times to wear this type of suit. Matching this suit with a stylish and well-tailored shirt and colorful tie can make you conspicuous in any wedding or other types of parties.
Check pattern suits:
Check pattern suits are one of the flamboyant styles that can be ideally worn for major social events including weddings. This suit consists of vertical and horizontal lines running throughout the suit to create an eye-catchy fascinating pattern. Tailoring this type of suit calls for professional expertise as it will be difficult to match the lapels and pockets with the main body of the suit.
Wedding suits:
Needless to say, the most important of all types of menís suits is the wedding suit. Wedding suits are designed and tailored with great care and are made using rich fabrics. Wedding suits can be found in many different styles, fabrics and colors - to suit individual tastes and the scale of the wedding.
Ready-made menís suits:
Ready-made menís suits are best avoided as quite often they do not perfectly fit the wearerís body shape unlike the specially tailored ones. Readymade jackets will require alterations including lengthening or shortening of the sleeves. Pants too will need proper hemming. If you can afford and also have the time, it is wise to opt for a specially tailored suit customized to your body fitness needs.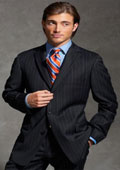 Other Types of Suits:
Many men are enamored of wearing 3-piece vintage suits comprising of the trousers, jacket, and vest. Traditional vintage suits are made up of either wool or polyester and are available in many different colors and patterns. Among different types of suits the most commonly worn for late night parties is the dinner suit. This is a black tie suit which broadly resembles the day lounge suit. The other less known types of menís suits for weddings and parties are Dress suits, Classic suits, Italian suits and Contemporary suits.