Home > Articles > Make a Style Statement with Denim Suits
Make a Style Statement with Denim Suits
History of Denim Suits:
The cutting and sewing of cloth developed between 12th to 14th centuries. That was the first time the term "Tailor" came into being. Prior to this period, clothes hung loosely to the body. Later the loose robe was stitched to show the contours of the body.
Louis XIV started encouraging the coats, vests, and breeches. In the late 1660s, for the first time straight-cut vest fitting the figure made its appearance. Soon it became common and people started to wear vest or waistcoats.
With time, the old form of heavy decorative attire became simpler. There was restrain in the dressing of men. The English tailors dominated the male fashion scene. The use of wool began in central Asia about 10,000 years ago. Wool is durable, versatile, elastic, and very flexible. The wool is obtained from variety of breeds of sheep from locations with different climatic condition. It is obtained by removing fur from the sheep. This process is called sheep shearing. The raw wool is made to refined products like Tweed and worsted by canvas work, knitting, spinning, and weaving.
The Durability of Woolen Fabrics
When compared to fabrics like cotton, silk, and rayon, the woolen fabric is more durable. This makes it a perfect fabric to make coats, jackets, shirts, and overcoats. MensItaly.com offers these attires for a reasonable price when compared to other dealers.
Single and Double Breasted Denim Suit:
Single breasted style comes in one, two, three or more button styles. The two and three button jackets looks classic and more buttons provide more fashion and trendy look. They are available in more styles, colors, designs and cuts. As per business occasion, get together events and any other special events, they are designed and produced. High quality fabrics are used to make men feel cool, good and smooth all over the day. Double breasted style looks more formal in style and it comes in four to six buttons. Most of the men prefer double breasted for parties or business events to enhance the day with professional look.
Few Tips:
Try to avoid short sleeve with a tie. Generally, short sleeve shirts are considered to be low class wear.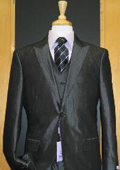 The other important factor to be considered is shoes. Men should wear shoes that are clean with shine look, repaired and in proper condition. Moreover, it should go with the one that you are wearing. People are suggested to prefer lace up shoes, so that men have enhancing look of formal, sophistication, royal and trendy.
The trousers should be tailored long so that it covers the socks properly. Generally, trousers should cover the socks and socks should cover the shins. Pleats and cuffs are the vital requirements in trousers and while tailoring it should be considered.
The tie is another important factor. Make sure that tie chosen matches your outfit and also it reaches till your belt line. The tie should not be too long or too short. It should be correct enough to add impressive look. The ties should be knotted properly and it should be known that proper knotted ties should have dimple.