If you are looking for a traditional dinner suit for a special occasion or unorthodox dinner suits, you will be amazed as the range of styles and fashions available today is phenomenal. The charm behind the variety of tailor made suits, rather than ready to wear, is that the cut and style will be specially made for your physical shape and body language.
We have a wide variety of different styles of men's dinner suits available and the manufacturers will be only too willing to discuss with you on what style would suit you best. The most popular style today is probably a formal two-piece dinner suit, which are economically priced. The dinner suits can be ordered online, if you do not have time to visit the shops, and it will be delivered to you in a couple of weeks. All you have to do is to follow the easy-to-use guide for measurements and fabric choices and once you have done that, you can order the suit with a few clicks of the mouse.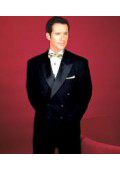 Men's dinner suits are not merely a typical black bow tie, cummerbund and black jacket. Typically, a dinner suit is a black wool suit that is single breasted and has either peaked or shawl collars. Depending on the style, you'll see an inch-wide strip of satin running up the seams on the outside of the legs. Normally, a bow tie is worn with any dinner suit. In parts of Europe and the UK, the dinner jacket will predominantly come with one button. However, in North America, many popular and contemporary styles have two or even three buttons. Regardless of the style, the traditional dinner suits are never worn before 4 o'clock.
A cummerbund is not a compulsory black suit accessory. Today, many contemporary styles depend on waistcoats to add a splash of color to the traditional dinner suit. But you must remember that a waist coat is only intended for single-breasted jackets and is never worn under a basic suit. It's important to choose the right dinner jacket for your body type. Even if you are dressed properly for a dinner, you will continue to look odd if you do not wear a dinner suit according to your body.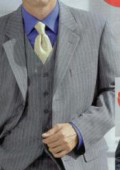 There are quite a few important reasons why dinner suit is better hired than bought. First of all, hiring a dinner suit is more cost effective than buying. Although there are many offline and online retailers who offer economically priced dinner suits, the quality of most of them is indeed questionable. If you really want to impress the other guests, then a top quality dinner suit can be hired for a fraction of the purchase price. If you are like the majority of people require a dinner suit only occasionally, then it saves you lot of money hiring the dinner suits.
When hiring, you can pick and choose from a range of designs to cater your style and body shape. With dinner suit hire you can stay at the cutting edge of fashion for all your special occasions. The suits can be fitted to your expanding waistline and changing body shapes, which means that you can avoid a projectile button propelled from your bursting fly on your now undersized dinner suit bought the previous year.
Bookmark